Latest news
Christopher Webster
[Celluloid 11.18.08]
movie
news
scifi
gallery
Here's what you need to know: Sandy Collora, director of the uber popular fan film
Batman: Dead End
, is making a feature length movie with Nick Damon called Hunter Prey. It's an epic, yet intimate, scifi war film set on a alien world, and it looks crazy good.
Our pals at
io9
scored a sit down with Collora to discuss the ins and outs of his experience making the film that's still in production. Below are a couple of Collora's quotes about the project:
"The film centers around a crew of special forces commandos who must recapture an alien prisoner that has escaped after the military transport ship carrying it crashes on a desolate and hostile planet."
"I love the Science Fiction and Fantasy films of the seventies and eighties. They were all very inspirational to me when I was a kid, and responsible to a large degree, for influencing the creative person and the filmmaker that I am today, especially "Star Wars". This picture is basically a love letter to those films that expresses my true passion for the genre and for making movies."
So there you have it. You can hold all obvious Boba Fett references because the boys behind the camera already know about it. I suggest you head over to io9 to read the interview but if you want to stay and browse there are a couple of mind boggling stills after the break. Look at those costumes and make up FX! Makes me wonder how much cooler the Star Wars prequels would have been if Lucas didn't resort to CGI when developing the Clone Troopers.
You might also like
Anonymous (13 years ago) Reply

loved those 80's sci-fi movies like
Spacehunter: Adventures in the Forbidden Zone

this looks good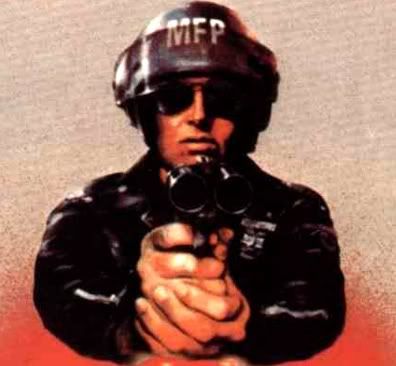 agentorange (13 years ago) Reply

Spacehunter is a little goofy but the production design is AMAZING and probably the only reason I've seen the film like 10 times.

Good call.

Anonymous (13 years ago) Reply

boba fett 4 ever!

Clive (13 years ago) Reply

If you want to find out the inside story behind Sandy Collora's superhero flicks--and how they paved they way for Hunter Prey--you may want to check out my new book about the history and future of fan films, Homemade Hollywood, which is coming out at the end of November in bookstores everywhere. Also, if you're interested in fan films overall, visit my daily fan film blog, fancinematoday.com, where I first covered Hunter Prey all the way back in May.

Anonymous (13 years ago) Reply

Like all of Collora's so-called body of work, this film is just another direct theft from other, more talented artists. The guy is all sizzle and no steak - a windy, arrogant, self-promoting PR machine on legs.

Leave a comment