Latest news
Hal MacDermot
[Film Festival 11.15.08]
movie
review
Year: 2008
Release date: November 12, 2008 (limited)
Director: Danny Boyle / Loveleen Tandan
Writer: Simon Beaufoy / Vikas Swarup
IMDB:
link
Trailer:
link
Review by: Cyberhal
Rating: 8.8 out of 10
I went to see Slumdog Millionaire because I heard Danny Boyle was doing a Q & A afterwards, and Mr. Boyle's made some of my all time favourite flicks including Shallow Grave, 28 Days and Trainspotting. As it turns out, Danny's latest flick is not your typical Quiet Earth film, but it's still brilliant. The story of how a boy from the Bombay slums gets to win the Indian version of the TV game show " Who Wants to be a Millionaire." A helter-skelter journey through a crowded world where luxury mansions sit next to people who live off rubbish tips; brilliant camera work, direction and editing give a mosaic jigsaw of a vibrant city that holds the best and worst of people. A tale where a gangster who kills and rapes can still find some kind of redemption. A touching love story that had the usually implacable Cyberhal on the edge of his seat. A heck of a film.
"Jamal Malik (Dev Patel), an 18 year-old orphan from the slums of Bombay/Mumbai, who is about to experience the biggest day of his life. With the whole nation watching, he is just one question away from winning a staggering 20 million rupees on India's "Who Wants To Be A Millionaire?" But when the show breaks for the night, police arrest him on suspicion of cheating; how could a street kid know so much?"
The story kicks off with the unlucky Jamal being tortured by the police. Waterboards and electricity, they suspect him of cheating on the gameshow. Supered on the screen is the multiple choice question:
A. He cheated.
B. He was lucky.
C. He is a genius.
D. It is written.
As the police inspector beats the truth out of Jamal, it becomes clear that the boy really did know the right answers. In what I found an original and brilliant structure, the film intercuts between Jamal's appearance on the gameshow, and as he answers each question correctly, we see the chapter in his life that enabled him to answer correctly. From hilarious scenes when he literally wades through shit to get to his boyhood film hero Amitabh Bachchan, to more painful episodes involving murder and rape of his loved ones. Like I said, a heck of a film, but always infused with the humor of Danny Boyle and Simon Beaufort. As Jamal the man TV sits in the hot seat, Jamal the boy navigates his way through ethnic violence, and slum lords who prey on street urchins, learning the answers. Jamal has one true belief and that's his love for Latika (Freida Pinto), but Latika is ripped from his arms by a bad world, and it's Jamal's quest to be with Latika that drives him storywise through the film. His brother's character, Salim, is especially interesting as he's a guy who commits terrible acts, but at the bottom of it all, he still loves Jamal more than anything. How do we judge a guy like that? In other words, this film shows us the tough contradictions in life, without being morally judgmental. Who knows who is really bad? Who is the Third Musketeer? Who wants to be a millionaire, and what do they do to get it?
The performances are spectacular. As Danny Boyle explained in the Q & A afterwards, neither Dev nor the beautiful Frieda have ever been in a feature before. For fans of Bollywood, there's even the mega star Anil Kapoor in his
first English speaking role, as Prem Kumar, the scary nasty gameshow host. One thing that I loved, and I can't believe I'm saying this, were the subtitles – they are coloured and for the first third of the film, they're pasted all over the screen , which has the effect of drawing your eye right into the action, it's a brilliant idea (later in the film it's all in English). It made me think of Goddard's use of colour in his Pierrot Le Fou phase. The camerawork reflects the life of the city, and mixes wide shots of skyscrapers and rubbish heaps with portraits of the teeming streets, traffic and our characters' lives. Also if you love music, hello Agent Orange, check out the kick ass soundtrack. An eclectic fusion of hip hop and Indian traditional, disco and R & B, you've got MIA doing Paper Planes, you've got winks to Bollywood musicals, and in great part it's thanks to the composer, A.R. Rahman, who is a Meka God of Indian film music..
Occasionally a film comes out of left field and hits me in the head in a good way, and this is one. I wouldn't usually recommend a film about slum life, kids, game shows blah blah, but Slumdog Millionaire is funny, entertaining and technically wow (except the CGI fire FX which I thought were rubbish). Danny Boyle has done it again, and from what I could tell of him in the Q & A afterwards, he seemed like quite a nice chap too.
You might also like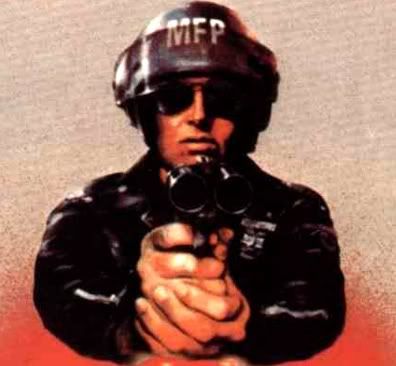 agentorange (13 years ago) Reply

Hey! What about Sunshine? I frickin' LOVE that movie.

I also want to see this after all the acclaim.

Leave a comment