Latest news
Hal MacDermot
[Film Festival 11.09.08]
movie
review
comedy
Year: 2008
Release date: Unknown
Director: Jared Drake
Writers: Jared Drake & Brandon Drake
IMDB:
link
Trailer:
link
Review by: cyberhal
Rating: 7.6 out of 10
Visioneers is the impressive feature debut of brothers Jared and Brandon Drake. A story driven exploration of an already here Corporate Dystopia, and what it takes to survive as a human being. The flick came in at under $1m and the Bros Drake adapt to circumstance by making great use of simple and retro technology. Clever dialogue had me laughing my ass off, especially in the first half, and made me think of a light hearted version of Hal Hartley in movies like the Unbelievable Truth. I love absurdist humor and word games. I thought the story lost a bit of its power when it got into the love and pole vaulting can conquer all, but I know others will disagree with me on that. Check out the official site website, it's pretty nifty.
"George Washington Winsterhammerman lives an ordinary life. He has a wife, a kid, a house and a boat. Every day George goes to work as a Level Three Tunt at the Jeffers Corporation, the largest and most profitable corporation in the history of humankind. Though he lives an utterly comfortable life, George is growing nervous. People around him have begun exploding—literally. Fearing he might be next, George visits his doctor and learns that his recurring dreams are a symptom of impending explosion. Unfortunately, George can't stop dreaming, and as the explosion epidemic worsens, he is forced to question the life he's been living."
Exploding office workers? Level Three Tunts? A corporate logo that's giving the finger? I'm laughing right off the bat. The way these guys make fun of the retarded corporation speak that poisons our lives is ace. Think of Starbucks. You can't even get a small or big coffee you have to get something called a Venti or a Tall, whatever the hell that means. In Visioneers, George (Zach Galifianakis, Dog Bites Man, What Happens in Vegas) runs a cell of office workers who greet each other with a "Good Jeffers Morning" and the finger sign. At home they wear Jeffers leisure wear a la Idiocracy. He wears a Terry Gilliam type eyepiece to read the small print in his documents (I guess that's part of the Visioneer meaning). In the office a PA system goes off every minute to tell them how many minutes of productivity they've got left in the week, even though it looks like they do sweet FA. Watch out for the George Washington dream sequences.
Zach Galifianakis gives a great performance. He's the epitome of the frustrated and angst ridden white collar worker - lots of money and a big boat and it all means nothing, he's still afraid he'll explode. As an ex office worker I could totally relate to him, and if fact in the Q & A after, the Bros Drake said they were actually trying to reflect their own experiences of rubbish corporate jobs rather than do the whole Brave New World/1984 thing. George has a beautiful wife, Michelle (Judy Greer) but he's impotent. Greer's performance is a gem, and she spends most of the movie obsessing over (hilarious) inspirational videos featuring Missi Pyle. I want to meet Missi Pyle. As the story develops, the scenes of corporate hell give way to George reaching out for his humanity in the shape of a sacked co-worker, the beautiful Mia Maestro. I never really understood why she fancied George, but maybe it's cause I'm not a girl, at least last time I looked. The other symbol of hope is George's brother who's turned his back on the Jeffers Corp and camps out in the back yard, learning pole vaulting (hmm…) and becomes a magnet for free-spirit Woodstock types to join him (note to QE: not sure how you'll take the hippies in these scenes mate, I wasn't too sure either).
The shooting style is classic, as opposed to crazy angles and cuts, and I think that it suits the office set piece scenes very well. The Bros Drake don't even try for fancy FX, but instead make virtue of retro low tech, which I think works really well. The telephones are rotary and the Jeffers "Personality Inhibitors" (you get wired up if you seem a threat) are just bits of rectangle plastic stuck on the skin. The score is melodious indie toonz. One story point I didn't really get was, if Jeffers was so all powerful, how was it so easy for George to remove the evil Personality Inhibitor off one of the characters? The Q & A session with the Directors and cast after didn't illuminate much either. Actually, I thought the whole Q & A was pretty lame. Maybe it was because they were nervous, but every time the Bros were asked a question about their flick, they had no answers or hadn't thought about it. Come on lads, only Bob Dylan can get away with feigning that stuff. Visioneers is a good movie to see for anyone with a deep distrust of corporate America and an absurdist sense of humor, for example me.
You might also like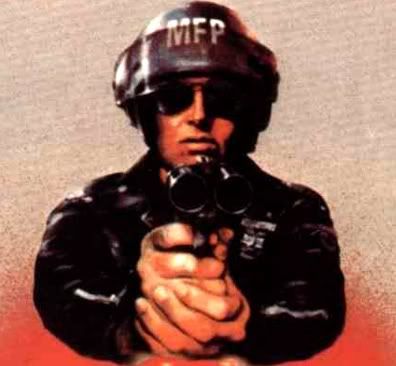 agentorange (14 years ago) Reply

Sounds really funny. I've been wanting to see this since the trailer dropped.

Anonymous (14 years ago) Reply

Great film. Saw it at Austin. The audience ate it up. I'm counting on it finding distribution. I can't image it won't.

Leave a comment