Latest news
quietearth
[Celluloid 10.29.08]
zombies
movie
news
Yes, we've seen this little gem and we give it the thumbs up (
review
) although I wish it had a few more of those zombie-things in it. Seriously, it's good, I hope they make a sequel.
"Shock jock Grant Mazzy has, once again, been kicked-off the Big City airwaves and now the only job he can get is the early morning show at CLSY Radio in the small town Pontypool which broadcasts from the basement of the small town's only church.

What begins as another boring day of school bus cancellations, due to yet another massive snow storm, quickly turns deadly. Bizarre reports start piling in of people developing strange speech patterns and evoking horrendous acts of violence. But there's nothing coming in on the news wires. So… is this really happening?

Before long, Grant and the small staff at CLSY find themselves trapped in the radio station as they discover that this insane behavior taking over the town is being caused by a deadly virus being spread through the English language itself.

Do they stay on the air in the hopes of being rescued or, are they in fact providing the virus with its ultimate leap over the airwaves and into the world?"
Yeah the quality is pretty poor, but it's after the break.
Pontypool official website
You might also like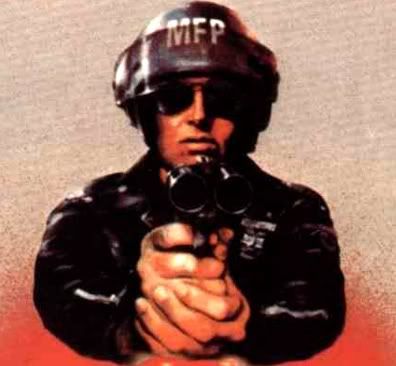 agentorange (13 years ago) Reply

From what I understand there is talk of a trilogy. Let's hope they all get the same attention to detail as Pontypool.

rek (13 years ago) Reply

Oh. God. Yes.

Daverat (13 years ago) Reply

The movie reminded me of the classic Black & White Twilight Zone which is a very good thing. I'm currently reading the novel and so far very little of it is in the movie.

Leave a comment