Latest news
Rick McGrath
[Film Festival 10.20.08]
zombies
news
They lurched, they staggered, and they tottered along a three-mile route in downtown Toronto today as the city's third annual Zombie Walk drew over 1,000 bloodied and rotting participants.
The ZW began around noon, with re-animates from across the city meeting at a downtown park to beg for brains, listen to parade instructions, meet fellow undead and beg for brains. Did I already say that?
After a lot of lurching, laugher, and posing for the army of photogs, the assembled reliving lurched their way along two major city streets to their final destination, the TAD filmfest and its Sunday evening Canadian Premiere showing of Kevin Tenney's Brain Dead.
Early reports suggest not one brain was eaten. Repeat: early. Check after the break for stills!
You might also like
Phoebe (13 years ago) Reply

We had a zombie pub crawl this past saturday night in Providence, RI. There was over 100 of us! Lots of fun =)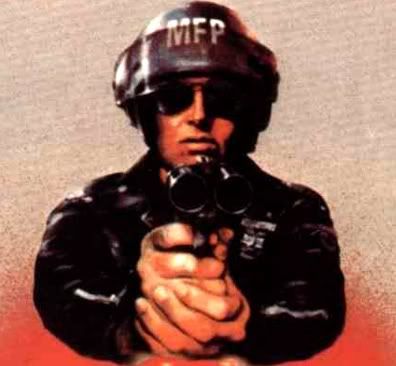 agentorange (13 years ago) Reply

They tried this in my town and like 14 people showed up. This looks way more fun!

Dr Nathan (13 years ago) Reply

Just to finish this off: in the news the next day it was reported that apparently some brains had been eaten after the Zombie double feature at TAD that night, but they were from local politicians, so nobody noticed...

Gabrielle Faust (13 years ago) Reply

Fabulous photos! Congrats on the "staggering" number of people who turned out. :)

Leave a comment