Latest news
Christopher Webster
[Celluloid 10.20.08]
post apocalyptic
movie
news
Awards Daily
have posted a publicity still for The Road that, we're assuming, recently appeared in a magazine (perhaps "Interview"?) as they've accompanied it with a quote from Viggo on the challenges of making the film.
"We knew that the journey of making a movie out of McCarthy's book The Road would be both physically and emotionality challenging. There is a certain degree of sadness, fear and regret that 'The Man' carries insdie as he strives to protect huis son and ensure their survival in an impossible world."
— Viggo Mortensen (Interview)
I like the photo and think the costumes and make up is perfect. However, I'm still itching for more. What I'd really like to see is a first poster for the film. Until then though, you can bet we'll continue to scour the landscape for anything and everything The Road related. You'll find an embiggened version of the picture
here.
Its worth having a look as the detailing is great. Just look at Viggo's shrunken slightly bloodshot eyes.
You might also like
Anonymous (12 years ago) Reply

http://www.wildaboutmovies.com/movies/TheRoadTrailer-TheRoadMovie-CormacMcCarthyTheRoad.php

i guess this would be the poster.... things should spread more easily through the weg, but you never know
but the road is delayed. so we won't be able to see it till 2009, at least.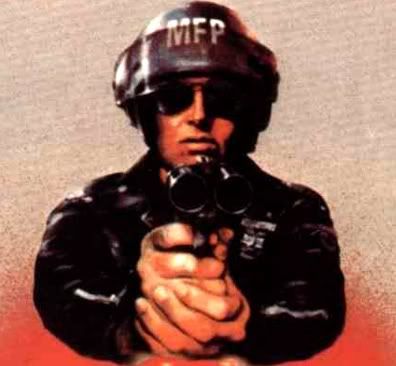 agentorange (12 years ago) Reply

Some people consider that the first teaser poster but it's really just film credits and some early casting on one of the book covers. I'm waiting for the real marketing stuff to kick in.

rek (12 years ago) Reply

How about this? http://www.horror-movies.ca/AdvHTML_Upload/hr_The_Happening_poster.jpg

Leave a comment