Latest news
quietearth
[Celluloid 10.16.08]
movie
news
horror
It seems the witch from Hansel and Gretel has some competition coming out of the UK in the form of Gregory Mandry's
Gnaw
.
"Six young twenty something friends escape to the British countryside for a well earned weekend break. Their destination... Blackstock Farm. What could be better? A beautiful farmhouse in the middle of nowhere, endless woodland walks, mouth watering home cooked food, all laid on and lovingly prepared by their host, the kindly Mrs. Obadiah. But all is not what it seems... Lorrie receives a gift from her secret admirer, but just who is this mystery person, and what do they want from Lorrie? And when Jill searches for her missing boyfriend, the dream weekend fast becomes a nightmare when she discovers a strange building on the outskirts of the forest which holds a deep dark secret... It's nice to
have your friends for dinner..."
There's a trailer after the break, but I must warn you, it is NSFW! Special thanks to
The Gomorrahizer
for the heads up.
You might also like
Anonymous (13 years ago) Reply

wow!!!!!!!!!!!!!!!! that looks awesome, when is it out!????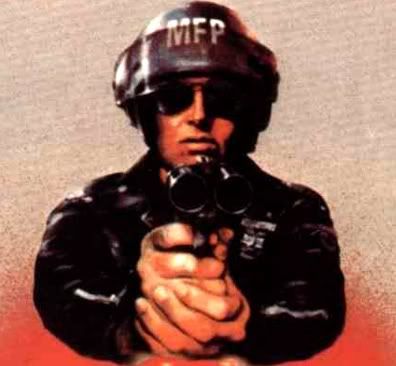 agentorange (13 years ago) Reply

Check out this banned poster for Australia's Dying Breed.... look familiar?

http://i250.photobucket.com/albums/gg272/Cinerama123/0627047700.jpg

Anonymous (13 years ago) Reply

saw this at frightfest on weekend. Really cool, with fun humour

Leave a comment