Latest news
quietearth
[Celluloid 08.24.08]
movie
news
scifi
dystopic
A while ago I put out a
plea
looking for a copy of the 2002 film adaptation of JG Ballard's Low-Flying Aircraft which was directed by Solveig Nordlund, and which unfortunately went unanswered.
"This short story is set in a dystopian, Orwellian society which has been severely reduced in numbers and pregnancy requires a license. Laura and her husband, an employee of the government, hide her pregnancy and bear it in private."
Onto the good news, the hands down best Ballard fan site
Ballardian
got an interview with director Solveig and some clips from both Low-Flying Aircraft and an earlier short of hers based on another Ballard story,
Journey to Orion
. LFA ran the fest circuit and is unfortunately only available in Portugal without English subtitles. However, it did run on BBC4 in October of 2003. We're going to help give a push on this underexposed film (which I've been dying to see) in hopes it finds an English subbed home for all to enjoy. You'll find the opening sequence of LFA as well as 2 more clips after the break.
You might also like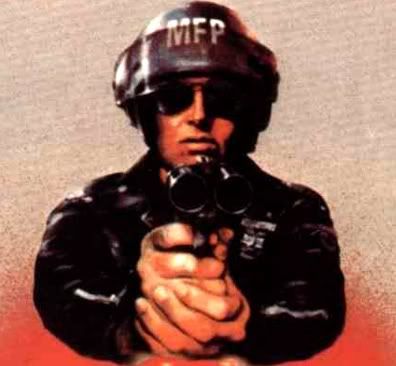 agentorange (14 years ago) Reply

sweet find. I would love to see this in its entirety.

Peralta (13 years ago) Reply

It's a GREAT performance by Margarida Marinho. She is a wonderfull actress. She got a nomination at the Portuguese Golden Globe Awards for Best Actress in this fim.

John (13 years ago) Reply

Hello - I too have been looking for an English copy. I was told to email Solveig Nordlund directly, which I did. He said he would be happy to mail me a copy, but then it never came. Has anyone else had any luck? my email is jdsewell (at) gmail dot com.

Marfilmes (11 years ago) Reply

Good afternoon. Marfilmes is the world distributor of this film. In fact, we have a version subtitled in English of LFA - which was the one we sold to BBC. So if you are interested in watching this marvelous film, please contact us in mail (at) marfilmes (dot) com

Leave a comment