Latest news
Christopher Webster
[Celluloid 08.22.08]
zombies
movie
news
horror
Even though details about the new British TV show, Dead Set, are scarce (word around the web is we can expect a big announced at the Film4 FrightFest on Monday), our tireless news hound Avery managed to sniff out some interesting deets from the lads over at
AITH
. The 6 part Dead Set series is being made by Big Brother producer Endemol UK's independent arm Zeppotron, and will be filmed entirely in the Brig Brother house! It is being described as
24 with zombies, where contestants of the show are unaware - at least initially - that the end of the world is happening just outside their walls....
. Two things strike me as being particularly cool about this premise. While this isn't the first time that a reality show has been the backdrop of a horror flick (most recently Wrong Turn 2 used it to pretty good effect), the Big Brother twist will no doubt lend itself to some nice satire. I love the idea that being on this ridiculous game show is what saves them. And of course the place is rigged with cameras which could give the show a sweet real time intensity. We'll bring more after the announcement on Monday.
via
The Guardian
You might also like
Anonymous (13 years ago) Reply

um, Charlie Brooker is a notorious tv critic who likes to take the piss by inventing ridiculous tv parodies. This is not going to actually happen.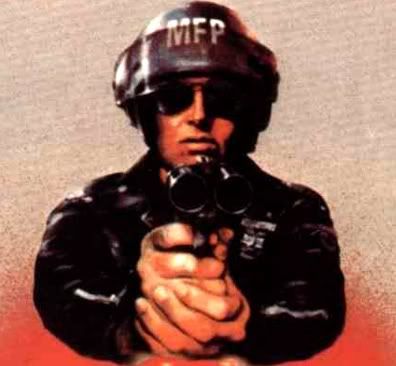 agentorange (13 years ago) Reply

Haha, bummer. It'll be interesting to see if there is in fact an announcement on Monday. Either way, we'll report on whatever comes along.

projectcyclops (13 years ago) Reply

A friend of mine was a zombie extra in London during filming for this. It's absolutely going to happen and if it shows half the promise of Charlie Brooker's TV criticism show 'Screen Wipe' or his scathingly funny sit-com 'Nathan Barley' then it will be totally boss. Brooker is a very talented guy and something of a hero of mine, go Charlie.

cyberhal (13 years ago) Reply

love the premise. I like when narratives blur. like that US film from a while back, the reality show where you had to kill everyone else, Series 7 I think (though idea better than execution)

Mathew F Riley (13 years ago) Reply

Just back from the Frightfest where Charlie Brooker gave us an exclusive 2 minute preview. It was extremely funny and very, very bloody - here's hoping the powers at be let it run uncut... kicks off in October apparently.

Leave a comment