Latest news
Christopher Webster
[DVD News 07.28.08]
movie
trailer
news
dvd
I love Canada but there are at least two things about this country that really grind my gears. One is our abhorrent television, and the other is the fact that sometimes (not always mind you) we get DVDs one or two weeks after they land in the states. Like wtf? With internet piracy running rampant and Amazon allowing me to purchase R2's sometimes months before R1 releases, is it really wise for companies to bicker over whatever rights infractions are disallowing Canadian retailers to sell certain DVDs at the same time as the states. Take for example,
Doomsday
, a film I've been anticipating getting my DVD loving mitts on for a while now. Well, it drops tomorrow - but not in Canada. We have to wait until August 4th. Lame. Luckily However, the
Dark City: Director's Cut
does drop on the same day so I'll at least be able to enjoy that. Also dropping this week is one of quietearth's favorite flicks, the completely insane
Forbidden Zone
which I'll also be checking out in due time. And lest we forget, Enzo G. Castellari's
Inglorious Bastards
drops on a 3-disc SE that
10K Bullets
called "the cult DVD event of 2008." This week also marks the long overdue release of
Privilege
, an awesome rock n' roll relic from the swingin' sixties about a totalitarian dystopia where Manfred Man singer Paul Jones is a manipulated pop star. And of course on the Asian scene, Sion Sono's wild J-horror parody
Hair Extensions
drops along with
Man, Woman and the Wall
from our friends at
TLA Releasing
, and
Madam O
. And how could we forget
War Games: The 25th Anniversary Edition
also drops today in the wake of its recent sequel
The Dead Code
. Sweet week. I'm now officially poor. Trailers, links and more after the break!
Doomsday
Purchase Doomsday from Amazon
Great Britain, 2007. A deadly plague, known as the "Reaper Virus," has broken out, killing hundreds of thousands in its wake. In desperation, the British Government evacuates as many survivors as it can out of the infected area, and then builds a wall, preventing the remainder from escaping. Thirty years later, with the wall still up and the victims all but forgotten, the virus breaks out again. The Government decides to send a crack team of operatives, led by Major Eden Sinclair, into the hot zone to investigate the possibility of a cure.
Dark City: Director's Cut
Purchase Dark City from Amazon
A man struggles with memories of his past, including a wife he cannot remember, in a nightmarish world with no sun and run by beings with telekinetic powers who seek the souls of humans.
Forbidden Zone
Purchase Forbidden Zone from Amazon
A mysterious door in the basement of the Hercules house leads to the Sixth Dimension by way of a gigantic set of intestine. When Frenchy slips through the door, King Fausto falls in love with her. The jealous Queen Doris takes Frenchy prisoner, and it is up to the Hercules family and friend Squeezit Henderson to rescue her.
Inglorious Bastards
Purchase Inglorious Bastards from Amazon
A band of US soldiers facing death by firing squad for their misdeeds are given a chance to save themselves - by heading into the perilous no-man's lands of Nazi-occupied France on a suicide mission for the Allies.
Privilege
Purchase Privilege from Amazon
Steven Shorter is the ultimate British music star. His music is listened to by everyone from pre-teens to grandparents. He has no trace of public bad habits or drug involvement. Everyone in Britain loves him. His handlers begin to use his popularity for projects like increasing the consumption of apples after a bumper crop as an aid to farmers. The handlers decide that Steven should support God and Country next. This leads to, among other things, a rock version of "Onward Christian Soldiers," and the inclusion of a Nazi salute to make it clear (to the viewer) how far the British population will be taken for love of God and Country under Steven's guidance. Steven is very plastic in his direction, shifting as his handlers point him toward new projects until he meets Vanessa Ritchie, an artist who makes him look at what's happening.
Hair Extensions
Purchase Hair Extensions from Amazon
About hair extensions that attack the women that wear them.
Man, Woman and the Wall
Purchase Man, Woman and the Wall from Amazon
When Ryo, a young magazine reporter, moves into a new apartment he is greeted by the passionate sounds of his astonishingly beautiful neighbor Satsuki. Realizing the wall dividing their apartments is paper thin, the captivated journalist begins to eavesdrop on every detail of the girl next door's life: her conversations, her bubble baths... her breathless cries. While Ryo's fantasies escalate into something bordering on love and obsession, Satsuki becomes increasingly hysterical over the bizarre and dirty phone calls terrorizing her every night. When their lives finally converge delusions and reality blur forcing the unthinkable to happen.
War Games (25th Anniversary Edition
Purchase War Games (25th Anniversary Edition) from Amazon
A young man finds a back door into a military central computer in which reality is confused with game-playing, possibly starting World War III.
You might also like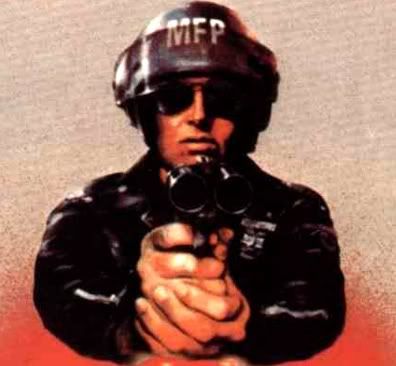 agentorange (14 years ago) Reply

Just got back from a full on shopping spree and man, is my wallet sore haha.... Picked up Inglorious Bastards, Dark City, the 2 disc edition of The Mist (for the B&W version which I still haven't seen), and Privilege. I might have to call in sick just to find the time to digest all this stuff. Couldn't find Forbidden Zone and, like I said, I have to wait until August 4th to pick up my beloved Doomsday *shakes fist at god*.

Leave a comment