Latest news
quietearth
[Celluloid 07.11.08]
movie
news
horror
Manson's pet project
Phantasmagoria
, which is based on Lewis Carroll living by himself in a castle terrified of each night and his visions of Alice, is budgeted at $4.2M and backed by none other then Wild Bunch. Shooting was reportedly supposed to start recently after a tour to promote his 7th album. This will be Manson's directorial debut with him also starring as Lewis Carroll, and reportedly he's using a "new camera" he's very excited about and the film won't contain any cgi, instead relying on a "magician" he hired to create special effects. To boot, he's going back to do the days of Roman Polanski and Hitchock horror where the desire is to allow the viewer to "do their own damage". Damn, it sounds good already and knowing Manson it'll be really twisted. Unfortunately there's not much more right now, but you can check out three promo stills after the break.
You might also like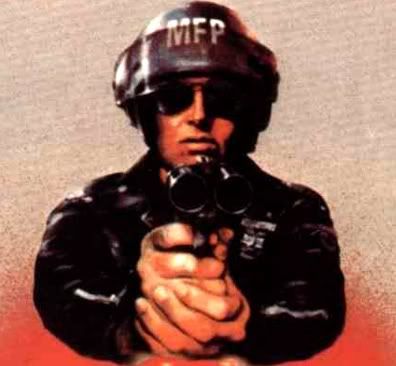 agentorange (13 years ago) Reply

This sounds promising and those stills are pretty cool but they also look a little too much like they come from a music video for my liking. However, as a pretty enormous fan of Lewis Carrol, I'm looking forward to tracking progress on this one.

Nice find!

Anonymous (13 years ago) Reply

The movie poster looks a lot like the Anonymous suit figure...

Ganaesh D. (13 years ago) Reply

He still hasn't started filming this? Yeesh.

ShadowSprite (13 years ago) Reply

DUDE i can NOT wait i think i am going to die just thinking about this movie. I am a fan of both Lewis Carrol and Manson. and i think putting the two of them together O.O
I also hear of Tim Burton doing an Alice in Wonderland version when i heard of that i was all "-.-" Burton does not have the right mentality to do such uhhhhhmmmm yea. nor the Charlie and the Chocolate factory. Dont get me wrong i love Tim Burtons works. just a few i well dont.

Marilyn Manson should try Alice in Wonderland that would be intresting. Tim on the otherhand is too playful for that kinda thing....
idk i just CANT wait for this Movie!!!!!!!!!!!!!!!!!!!!!!!!!! >.< COME ONE MARILYN FINISH IT!!!!!!!!!!!

Anonymous (13 years ago) Reply

no one calls him Marilyn

angel (13 years ago) Reply

I want to see this so bad but I just dont think it will ever come out....d

Anonymous (13 years ago) Reply

i cant wait for this movie to come out if marilyn mansons is in it im watching it

ok... (13 years ago) Reply

for ShadowSprite is a respond
look you don't know anything about Tim Burton he will do a great job with his movie, and of course i think probably manson will do it great too but we have to consider Tim Burton has the eye and the perception in films while Manson in music
so let's see

D____ (12 years ago) Reply

I really cannot wait to see this, I know it will have a pedophlilic edge to it, and I know it wll be tripy, "The Dope Hat" vid keeps coming to mind, although I know it wouldn't be anything like that... seriously can not wait.

Leave a comment