Latest news
quietearth
[Celluloid 06.30.08]
post apocalyptic
movie
news
scifi
If you're looking for your B-movie, scifi, post apocalyptic fix, Quiet Earth has got you covered as usual.
"The year is 3313. Mankind is being systematically massacred throughout the galaxy by an invading species. All hope is lost until the last strand of pure human DNA is found on a remote planet in the far reaches of the galaxy. Now, an epic battle will be waged across time and space to save and protect the last of the human race."
We don't have much more info, but
Humanity's End
from Halcyon Pix is going straight to DVD in 2009. Trailer after the break.
You might also like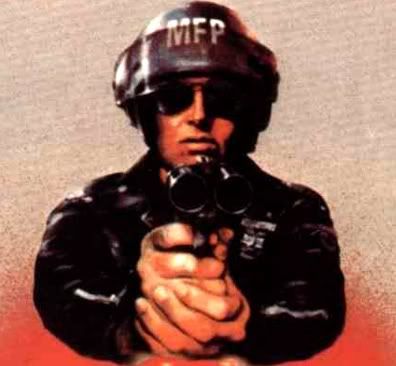 agentorange (13 years ago) Reply

There looks to be some pretty crazy good FX in this. Definitely intrigued.

Anonymous (13 years ago) Reply

http://www.morphiusfilm.com/Morphius%20Film/Movies/D2B1864A-31DB-4858-82A6-F1731A89B868_files/BIPOLARPOSTERFORWEB.jpg

Anonymous (12 years ago) Reply

the computer effects and sets were really surprisingly convincing and did tie in quite well with the story. of course not as original as "district 9" or with that good character-interaction as in "firefly" or a movie with perfect choreography as the "riddic chronicles" so ... no major flaws given it's a DVD-production, a neat sci-fi-story. and i thought it was a funny ... humanity, sag zum abschied leise "servus" :-)

Anonymous (12 years ago) Reply

Making Of Battlespace
http://www.youtube.com/watch?v=jappZwmyCa8

a girl (12 years ago) Reply

No words can describe this film. simply put it is horrible. Granted i am no film critic but ewwwwsh that was bad. the acting was awfull, they should have spent more time on special effect and better time on things like plot and actors who can do at least a decent job.

Pete (12 years ago) Reply

I honestly believe my I.Q. dropped a few points watching this garbage. Whatever else u do in life PLEASE do not watch this movie! u would be more entertained watching snials mate...excuse me while i go pluck out my eyes to ensure I never accidently see this stupid, plotless piece of dung again..

Leave a comment