Latest news
Hal MacDermot
[Celluloid 06.26.08]
movie
review
scifi
horror
comedy
Year: 2007
Release date: October, 2008 (TBD)
Director: Ole Bornedal
Writer: Ole Bornedal & Henrik Prip
IMDB:
link
Trailer:
link
Review by: cyberhal
Rating: 7.4 out of 10
Remember when you were a little kid, that teacher who was a total cow? Well you were right, she was an evil alien, and she did want your soul. In The Substitute, Danish director Ole Bornedal, of Nightwatch fame, spins a tongue-in-cheek tale in which an alien in search of Love poses as the schoolteacher from hell. It's sort of a Danish version of The Faculty, but better, and with much younger kids. This is an entertaining movie, and funny, but don't expect a bucket of blood and brilliant SFX, because it's not that. The movie will be released on DVD as part of the Ghosthouse/Lionsgate slate in October.
The story kicks off with a Stardust-esque narration in which we learn that warlike aliens don't know what Love is, and they want some of ours. A strange sphere shoots through space and lands in an isolated chicken farm (where else?), and an alien takes over the body of the farmer's wife, who then shows up at the local school in the form of Ulla (Paprika Steen). In a great performance, Ulla then proceeds to humiliate the kids with malicious verbal abuse and mad workouts in the gym. In my opinion, these are the best scenes in the movie. She actually asks a kid with big teeth if he has trouble walking when his teeth are so big they must scrape the floor. HaHa.
The kids realize pretty quickly that their teacher is an alien, especially when they catch her eating a live chicken. They denounce Ulla to their parents, and the folks call a meeting to oust teacher, but she uses her sphere to conjure up an automaton Minister of Education, who defends Ulla. She then bursts into tears to show how "hurt" she is by the kid's accusations. The parents side with the blond bodysnatcher and the children are left with no one to defend them. The stakes are raised again when Ulla announces she will take her class on a school trip to "Paris," which is very likely a metaphor for alien abduction/annihilation, and it all has to do with the chicken farm…
Although I enjoyed this movie, I did have a few problems. The movie is shot in a monochrome style, which was fine, but the SFX were sometimes not really up to par. Maybe the trick-photography was intended as a pastiche of those 50s sci-fi flicks, but I just didn't find it convincing enough. In story terms, I also wondered about Ulle's motivation. I'm not too sure why being a substitute teacher is a good way to learn about love. And another thing, I reckon that killing off a couple of kids would have really boosted the tension and cut the sugar level. On more positive note, I had no problem with the soundtrack, which is of the classic orchestral film track style.
I would recommend The Substitute, but if you need a great deal of blood and fear in a movie, it's probably not for you. I only yelled once in surprise, although it was a good one. Actually, this has been a chicken themed week for me. After attending the LA premiere of Lloyd Kaufman's genius/insane "Poultrygeist – Night of the Chicken Dead," I ended up at the poultry party at the Hustler shop on Sunset. Toxic Avenger was there and nicked the girl I was after, damn. Why am I telling you this? I don't know, but it just goes to show you that chickens are all over the place right now.
You might also like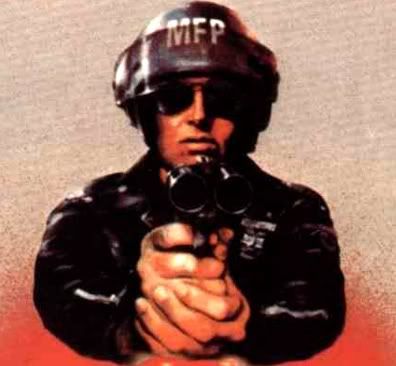 agentorange (14 years ago) Reply

Your bird (get it... Chicken pun) probably caught wind of your odd desire to see more kids offed in foreign horror films :)

Damn Toxic Avenger. I hate that guy!

cyberhal (14 years ago) Reply

probably :) BTW Toxie was hangout out with Ron Jeremy

Kurt (14 years ago) Reply

I just wished the second half of THE SUBSTITUTE did not feel so rushed. The first half is very solid, but the follow-thru stinks.

"I intentionally forestalled reviewing Ole Bornedal's fantasy adolescent film when I caught it at TIFF in 2007 because I had convinced myself that somewhere in the last half hour there was a reel missing from the print. That a film can go from a giddy mean-spiritedness (see also Thomas Anders Jensen's Adam's Apples) with a brain, a heart and a pulse to an inept and clumsy mess (and this in an instant I can point out down to the exact frame!) is kind of baffling. Yes it is fun to watch Paprika Steen chew the scenery like a starving woman at an all chocolate buffet, and yes it is fun to watch Ulrich Thomsen play the earnest and clueless dad (both opposite to their Adam's Apples characters) in a Men In Black inspired after-school special. The central concept of the film is that the students in a grade 6 class think their oddball substitute teacher is a space alien which is mined for generation gap communication follies until it gets tied down in poorly executed plotting details. Unless there is only a single subtitled print touring the world and nobody has noticed it is missing said reel, then one has to wonder what went wrong in the editing room."

Leave a comment