Latest news
quietearth
[Celluloid 06.23.08]
post apocalyptic
movie
news
I initially had been ignoring any news of Rob Zombie's film T-Rex; why? It doesn't interest me. But I will say he did a great job as a director with the Halloween remake (which I loved and rooted for Michael the whole film). However, a new poster turned up today showing 2 dudes and a broad with guns atop some sort of heap with some banged up vehicles in the background, and I swear this looks like he's doing a 70s style throwback to Mad Max or something. The full size poster is after the break. What do you folks think?
via
Dread Central
You might also like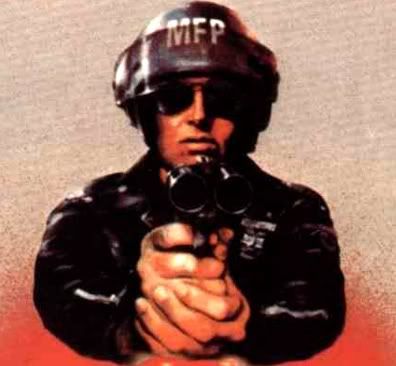 agentorange (14 years ago) Reply

Besides having the coolest name in the business I can't say I'm much enamored with Rob Zombie; his music or his films. All that aside however, this might be the best teaser poster for a movie I've seen in quite a while, even though it probably has more to do with my respect for illustrative artist Frank Frazetta than anything else.

Check out what I mean here:

http://www.cinemasterpieces.com/gaunthapr08.jpg

bad dog (14 years ago) Reply

Great poster but otherwise looks like a typical Zombie production, which is to show us complete scumbags sadistically torturing and murdering likable people, and then expect us to sympathize with the scumbags. Devil's Rejects was no Natural Born Killers, but instead a cartoonish fantasy of sadism that ended up whining for sympathy--horrible.

Kevin (14 years ago) Reply

Man, I really hope "51% Motherfucker, 49% son of a bitch" is the tag line they use.

cyberhal (14 years ago) Reply

could be like a Planet Terror style?

bad dog (14 years ago) Reply

I don't think this is going to be a PA film.

Leave a comment