Latest news
Hal MacDermot
[Film Festival 06.23.08]
movie
review
horror
drama
Year: 2008
Release date: Unknown
Director: Tomas Alfredson
Writer: John Ajvide Lindqvist
IMDB:
link
Trailer:
link
Review by: cyberhal
Rating: 9 out of 10
Let me just tell you right now that Tomas Alfredson's Swedish vampire movie totally blew me away. A dark, original and hauntingly beautiful story of young love set in the snowy suburbs of 1980s Stockholm, this film is an understated masterpiece. Don't look for the blood of 30 Days of Night, or even Gothic tombs, but trust me, if you love great drama and vampires, you need to see this film. The movie is based on a novel by John Ajvide Lindqvist of the same title (which apparently he lifted from a Morrissey song).
Let The Right One In tells the story of Oskar (Kare Hedebrant) a pale 12-year-old boy, who's bullied by his classmates. One night, he meets his new neighbor Eli (Lina Leandersson), in the snow covered playground outside his apartment block. Eli only ever comes out at night. As they bond over a Rubik's Cube, it becomes clear that these two lonely kids are the perfect soul mates, and the fact that she's a vampire hardly fazes Oskar at all. Good lad.
Of course, the rest of the world is not quite so understanding. Since Eli and her stolid father/minder/servant Hakan (Per Ragnar) moved into the area, there have been a series of killings and the neighbors are getting suspicious. It's a sign of the filmmaker's skill that our sympathies remain entirely on the side of the killers. The scenes of the slightly inept Hakan going out to collect blood with his box kit of tools made me feel quite sorry for him. As for Eli, well, she might have blood under her fingernails and smell funny, but I wish I'd known her when I was a little kid. Meanwhile, Oskar's world of school bullies is full of fear and pain. He keeps a notebook of all the murderous crimes he'd like to commit on his enemies, and I could see why. Luckily for these two misfit kids, they have each other.
The photography is beautiful. There really is something about snow with the occasional dash of blood. Anderson takes his time to let us watch the snow falling and to hear the crunch of footsteps. Those moments of visual contemplation that get cut out of most Hollywood movies, this director leaves in. The production values are professional and faithful to the 80s. The subtle and atmospheric soundtrack blends into the nightscapes perfectly.
One element of the story that I enjoyed was the way it explored aspects of vampire-lore that I've never seen touched in a film. The best example would be the idea that a vampire must actually be verbally invited into a house to enter. Eli always asks Oskar, if she can come in. He always says yes. Then one time, Oskar's being cruel like kids are, and he refuses to say the words, he's kind of testing her to see what she'll do. Because she loves him so much, she crosses the doorstep, and the moment she does she literally starts to…well, sorry can't spoil it for you, but it's as shocking as it is touching. And oh my God, if you're friends with any vampires, tell them to keep away from cats. Totally recommend this film, it's ace.
You might also like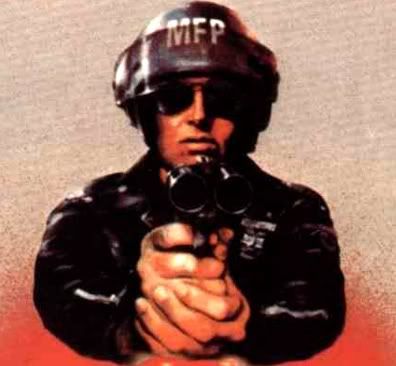 agentorange (13 years ago) Reply

This film was indeed amazing in, as you say, and "understated" way. Great review man, you summed it up nicely.

Ryan B (13 years ago) Reply

Well said Cyberhal! This is a brilliant film and you hit it on the head as far as the subtle, beautiful moments.

Leave a comment