Latest news
Hal MacDermot
[Film Festival 06.22.08]
movie
review
drama
Year: 2008
Release date: Unknown
Director: Jay & Mark Duplass
Writer: Jay & Mark Duplass
IMDB:
link
Trailer:
link
Review by: cyberhal
Rating: 7.8 out of 10
I suspected I might like this movie when I was queuing up for tickets and some chick with a brown paper bag on her head gave me a bag to wear on my head too. Spread the love. The Duplass Brothers' Baghead is a lo-concept, mumblecore, Cassavetes sort of, comedy/horror that had me laughing in all the right spots. A kind of Blair Witch-ish look at people in the Los Angeles independent film scene, or more accurately, at the actors on the fringes who are desperately trying to make it. Baghead is really a movie about relationships rather than horror, and for me it kept itself together until the end, which I thought was weak.
The story hinges around four wannabe actors who see a super pretentious movie in a film festival, and convinced they can do better, they jump in the car and head off to an out of the way log cabin in the mountain resort of Big Bear to write their own script. The dynamics and dialogue between these four characters is really what this movie is all about. I think most of it was improv and they really do a fine job. There's Matt (Ross Partridge) the sort of cool guy, Chad (Steve Zissis) his far less cool friend who looks like Paul Giamatti, Catherine (Elise Muller), who looks like Claudia Schiffer, love that lip gloss girl, and the usually tipsy and very funny Michelle (Greta Gerwig). Between these guys is a world of sexual tension and jealousy and the Duplass Brothers really are masters at catching all of that on screen.
The shooting technique used is the on purpose amateur style, and I swear to God those dudes left their camera on autofocus. Apparently it has something to do with the Duplass bro's genre which is "Mumblecore," cue Wikipedia for the uninitiated: "Mumblecore is an American independent film movement that arose in the early 2000's. It is primarily characterized by ultra-low budget production (often employing digital video cameras), focus on personal relationships between twenty-somethings, improvised scripts, and non-professional actors. Filmmakers in this genre include Andrew Bujalski, Mark Duplass, Jay Duplass, Aaron Katz and Joe Swanberg."
I'm not sure what I think of the term "mumbelcore," but nobody asked me anyway, so whatever. At some point during the night a dude with a bag on his head appears at the Michelle's bed and scares the c#ap out of her. It's hard to know whether it's a stalker of a prank, but they decide that a story about a Baghead would make a great screenplay (and they're right!). Yes, you will be seeing shakey shots of people running through the woods.
My only real problem with this movie is the way it ends, which I think is a total cop out, but I'm not going to let the cat out of the bag, or Baghead might get me (sorry, for my rubbish jokes). Baghead is currently doing the festival circuit and I definitely recommend it.
You might also like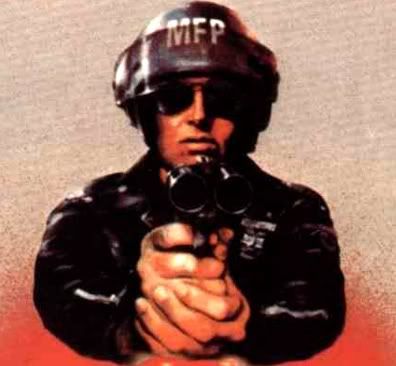 agentorange (14 years ago) Reply

I've been looking forward to seeing this since the trailer dropped so I'm glad to hear it's as good as it looked.

Leave a comment