Latest news
quietearth
[DVD News 06.16.08]
news
dvd
It's that time again so here's our picks for this week. We'll start out with
Jericho: The Complete Series
, to which I say blech. Next we have
On the Doll
about people whov'e been abused and how they grow up to live messed up lives. It sports some nice photography and actually looks quite interesting. Next is
The Restless
, a Korean "Wu Xian Pan" epic. Then we have
Be King, Rewind
, the comedy featuring Jack Black and Mos Def. Last off, we have one of my personal favorites, a great horror/zombie flick from 1989 called
The Dead Pit
. Check out all the digs after the break!
Jericho: The Complete Series
Purchase at Amazon
We all know what this is, the post-apocalyptic, post-nuclear tv series which lasted for 2 seasons.
On the Doll
Purchase at Amazon
On The Doll is a story of the victims of child abuse, and the pain it visits upon their later lives. With interweaving stories following victims and victimizers, the film depicts the variety of experiences of abuse.
The Restless
Purchase at Amazon
It is AD 924, at the end of the United Shilla Dynasty. Continuous riots sweep the land ruled by a corrupted government. Evil forces are rampant and malicious demons roam the land. YI Kwak, born with the powers to see spirits, joins the royal demon hunting squad, 'Chuh-yong-dae' after losing his fiancée, Yon-hwa to evil demons. YI Kwak excels as the most talented warrior of Chuh-yong-dae and the royal squad seems to gain momentum as powerful fighters against the forces of darkness. Then one day, YI Kwak drifts into Joongcheon, the world of the dead through a strange shrine. Joongcheon, the intermediate world between Heaven and Earth, a place souls remain for 49 days, preparing for reincarnation.
Be Kind, Rewind
Purchase at Amazon
Jerry is a junkyard worker who attempts to sabotage a power plant he suspects of causing his headaches. But he inadvertently causes his brain to become magnetized, leading to the unintentional destruction of all the movies in his friend's store. In order to keep the store's one loyal customer, an elderly lady with a tenuous grasp on reality, the pair re-create a long line of films including The Lion King, Rush Hour, Ghostbusters, When We Were Kings, Driving Miss Daisy, and Robocop, putting themselves and their townspeople into it. They become the biggest stars in their neighborhood.
The Dead Pit
Purchase at Amazon
A renegade doctor is shot dead and entombed with his fiendish experiments in the basement of an abandoned wing of a mental hospital. Twenty years later, a mysterious woman is admitted with amnesia, and her arrival is marked by an earthquake - which cracks the seal to the Dead Pit, freeing the evil doctor to continue his work.
You might also like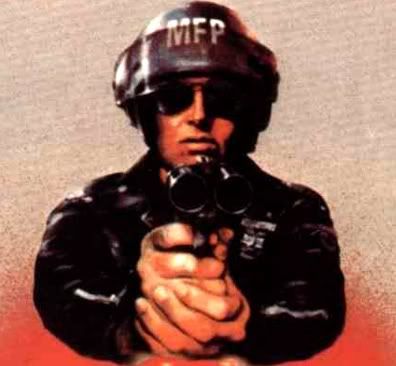 agentorange (14 years ago) Reply

Haha, "Blech" indeed. I enjoyed the show immensely in a 24 kind of way but, in terms of it being a PA show... not that interesting.

Leave a comment