Latest news
Christopher Webster
[Cathode Ray Mission 06.05.08]
post apocalyptic
apocalyptic
news
If there's a common thread that unites both members and contributors around here it would probably be a unanimous opinion that Terry Nation's Survivors remains one of the greatest post-apocalyptic dramas ever set to film. Launched in April 1975 on BBC One, Survivors ran for 38 glorious episodes and told the story of
survivors of a genetically engineered virus, that kills ninety-five percent of the world's population, who must rebuild humanity in the face of overwhelming odds.
But more specifically, Survivors was an unflinching study of man vs. nature and man vs. man and an microcosmic look into how we organize ourselves socially and politically. In light of all this, you can imagine the weight on the shoulders of producer Hugh Warren who's taken on the challenges of bringing Survivors back to the screen this Autumn(yep, sounds like it's set to air in Autumn 2008). Full cast and character details after the break.
We've listed the entire cast of principle characters below along with their back stories and principle actors portraying them. Those familiar with the original characters and storylines will notice both minor and major changes but it seems like the integrity of the plot is intact. One thing that surprised me is that there are a lot of comedic actors involved. Of course there's that whole adage that comedians make the best dramatic actors so I won't make too many judgments on the cast. I'll leave that up to our British readers to comment on.
Abby Grant
(Julie Graham from "Boneckickers") Abby is a mother and home-maker to her son Peter (11) and husband David (Shaun Dingwall). Before the virus struck Peter had successfully defied a near-terminal illness. Peter is now better and Abby has reluctantly agreed to let him go on an adventure holiday. Abby plans to resume her career and re-ignite her faltering relationship with her loving but exhausted husband. But fate has other plans in store for them...
Al Sadiq
(Phillip Rhys from "24" & "Nip/Tuck") A rich, good-looking playboy, Al has lived a life of privilege. In the aftermath of the virus he finds himself responsible for Najid. Al has never seen himself as the paternal type and he initially proves to be a disaster as a father figure; he would rather find a softer life for himself in the post-disaster world. But strangely this frightening new environment ultimately makes him a better man than he would ever have been if he had continued his old life.
Dr. Anya Raczynski
(Zoë Tapper from "The Last Van Helsing") Anya is a young doctor who does her best to save as many people as she can when the virus that wipes out most of humanity hits. But there is no cure and no vaccine and all her skill ultimately proves fruitless. While she struggles with the enormity of it, she is forced to stand by helplessly as her former girlfriend Patricia is among those brought to the hospital in the grip of the illness...
David Grant
(Shaun Dingwall from "Doctor Who") David is a self-employed builder, a loving family man who is competent, brave and determined. Although they have been worn down by the illness of their beloved son Peter, Abby and David's marriage is a solid and loving one. But nothing in David's life has prepared him for the crisis which is about to sweep away everything he ever knew and loved...
Greg Preston
(Paterson Joseph from "Jekyll" & "Peep Show") A former systems analyst for a big multi-national, Greg felt trapped and dreamed of a new life. But his wife, who had grown used to a wealthy and comfortable lifestyle, was appalled by his utopian vision of a new, hard scrabble future. Nursing bitter personal wounds, Greg is now a man who believes he can live without love, friendship or family…
Jenny Collins
(Freema Agyeman from "Torchwood") Jenny is a bright and lively young teacher in a primary school. Overwhelmed by the chaos she sees all around her, she is determined to save the life of her dying flatmate Patricia. Nothing will stop her taking her friend to the hospital and saving her life. But fate intervenes to confront Jenny with choices beyond anything she could have imagined.
Najid
(Chahak Patel) Eleven-year-old Najid is a lively little boy with all the normal interests of kids of his age – football, his gameboy, school. He is also a devout Muslim. On the night of the crisis he and his family go to the local Mosque but in the morning Najid is forced to grow up very fast when the virus causes a violent change in his circumstances and his life is transformed in ways he could never have anticipated. His relationship with Al is at times funny, at times poignant; but in the end Al and Najid need each other, no matter how much they try to deny it.
Samantha Willis
(Nikki Amuka–Bird from "No.1 Ladies' Detective Agency") Samantha is a junior minister delegated to handle the press in the midst of the crisis. Dealing as best she can with an anxious media and her own stunned colleagues, Samantha at first has no idea how serious the crisis is becoming. Forced to put aside her love and concern for her own family, Samantha becomes the last contact between the government and the people it can no longer protect. Her journey from innocence to a full knowledge of the truth is laced with bravery and horror.
Tom Price
(Max Beesley from "Hotel Babylon") In prison when the story starts, Tom Price is handsome, charming and capable, but also very dangerous. A man who will stop at nothing to achieve his own ends, Price finds himself locked in his cell while all around him are dying. As the long night of the virus wears on, survival and freedom become the only issues that matter...
You might also like
Cyberhal (13 years ago) Reply

that's what I'm talking about

Wilcoy (13 years ago) Reply

I wonder if the series will be aired on BBC AMERICA? Thanks for the heads up guys i can't wait to read more in the coming months...

Anonymous (13 years ago) Reply

Anyone know if the original series is available for purchase here in North America???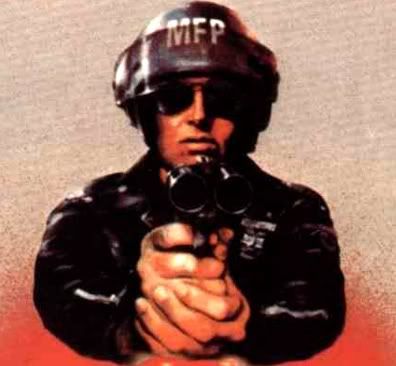 agentorange (13 years ago) Reply

Nope, we suck. You can get it from amazon UK at around 40 pounds each season. I got my set off ebay though I imagine we'll see a limited R1 release in light of the redux.

G.H. (13 years ago) Reply

Man I can't wait for this. Gotta rewatch season 3 first though... I hope they keep Greg surly as hell. It just wouldn't be right not to.

Anonymous (13 years ago) Reply

They have just been filming for this series in Cowpe Waterfoot Rossendale!! 01/06/2008

Leave a comment