Latest news
Christopher Webster
[Celluloid 05.27.08]
post apocalyptic
movie
news
"We saw [the Mad Max] movies, set in a world of futuristic bikers, as a sort of antimodel: a fanciful, imaginary version of the end of the world, not the grim, all-too-convincing one that Mr. McCarthy had depicted."
This quote from Australian director John Hillcoat is only one of the many insights you can expect from a stellar piece on the making of The Road that has appeared online from the New York Times. If you've read Cormac McCarthy's The Road then you might be, like us, a little trepidations of anyone being in charge of bringing it to the screen. But this article, which goes into some detail about the effort put into getting it right, has really gone a long way to quelling many of our fears. The cast and crew really do seem pitch perfect. Plus there are even some surprises along the way; like, don't ask me why but, I did not know that Robert Duvall was in it. There are also a handful of B&W behind the scenes photos so it's well worth a look.
Synopsis: "A father and his son walk alone through burned America. Nothing moves in the ravaged landscape save the ash on the wind. It is cold enough to crack stones, and when the snow falls it is gray. The sky is dark. Their destination is the coast, although they don't know what, if anything, awaits them there. They have nothing; just a pistol to defend themselves against the lawless bands that stalk the road, the clothes they are wearing, a cart of scavenged food--and each other." -- From IMDB
Read the article here
You might also like
Wilcoy (14 years ago) Reply

Thanks for the latest news agentorange. I've been waiting to find out some news on "The Road" and thats the first screen shot i've seen of yet. I've read the book now three times over the last year and it's the most anticipated PA movie I can remember. Keep us informed.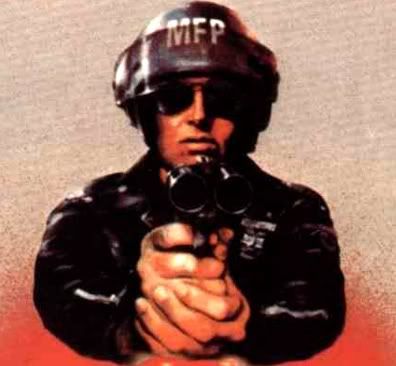 agentorange (14 years ago) Reply

No problem. And you can bet we'll be following this one very closely.

Leave a comment