Latest news
quietearth
[Celluloid 05.26.08]
movie
news
scifi
Based on the wildly popular novel by the Strugatsky brothers, Inhabited Island has been in the works for a year at least, and is the biggest budget Russian film made to date. The last report I saw clocked it in at $30m and with the new stills, you can see that the production design clearly does not disappoint, in fact it's quite incredible.
"The year 2157. The blossom times for the human civilization. Pilots of the Freelance Search Group enjoy interstellar travelling. A Russian spacecraft, piloted by a 22 year old Maxim Kammerer, crashes on the distant inhabited Saraksh planet. After long years of a nuclear war, an environmental crisis reigns over the planet, the society is overburdened with social problems, and the established peace is quite shaky. The brave astronaut will explore a mysterious land governed by the Unknown Fathers who are five anonymous rulers manipulating the inhabitants consciousness using special emitters. There Maxim will meet new friends, make enemies, find his love and, after getting through dangerous trials, hunger, mortal hazards and losses, will lead a rebel movement challenging the five greedy rulers."
Release date is set for October 2008. Check out some stills and link to even more after the break!
More stills here
You might also like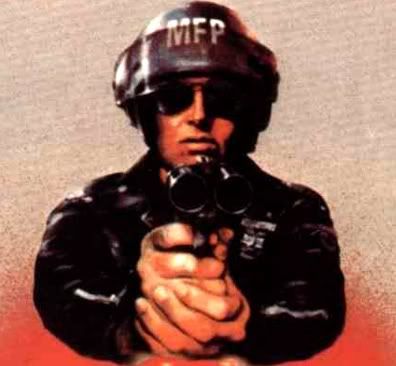 agentorange (14 years ago) Reply

Wow, lots of stills. Nice find. This actually looks a lot more Baroque than I was expecting.

Gevorg (13 years ago) Reply

Ok the movies is only the first part of the great book by strugatsky brothers, but still it is excellent I kind of went back to my adolescence, when I read the book several times. It is an excellent Movie and with deep philosophy under it. It will change your mind, it will make you think whether you are in the inhabited island and how to get out of it. Superb movie ! check it out !

Leave a comment