Latest news
Christopher Webster
[Celluloid 05.23.08]
movie
news
horror
Originally titled Little Terrors, Eden Lake was written by newcomer James Watkins (who's about to become public enemy #1 as the writer of Descent 2) as a commentary on what he sees as a generation of youth who seem to have no moral compass. It follows
the story of a vacationing couple whose romantic weekend gets disrupted when they become terrorized by a marauding pack of loutish youths. But, instead of cowering from their attackers they fight back to brutal and terrifying consequences.
Word is that Watkins, who is making his directorial debut with Eden Lake, took Alexandre Aja's High Tension as a reference point for designing the film's realistic look and edgy violence which is exactly the feeling you get from this intense looking piece of promotional art. More on Eden Lake and a look at the supersized poster after the break.
Eden Lake has recently completed shooting and is in negotiations with The Weinstein Company for distribution stateside. Stay tuned for a trailer on this one.
You might also like
quietearth (14 years ago) Reply

Think this will be as good as High Tension?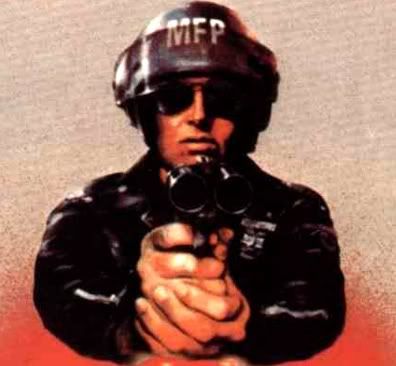 agentorange (14 years ago) Reply

Too early to tell... though the Brits are certainly on fire these days. Could it be that they're taking on the French?

ego (14 years ago) Reply

nice movie, saw the film at the fantasy film fest in berlin. i liked it.

Leave a comment