Latest news
Christopher Webster
[Celluloid 05.20.08]
movie
news
scifi
No this isn't a belated April fools joke (though some might wish it was); stage director Peter Schaufuss has indeed somehow managed to sweet-talk rock n' roll legend and sometimes actor David Dowie into allowing him to bring the Nicholas Roeg film The Man Who Fell to Earth to the stage. According to Canadian music mag Exclaim!, the musical will be built around a mighty selection of Bowie classics while the stage production's story will be loosely based on the storyline from the 1976 film. To qualify the announcement a representative of Bowie's has gone on record as saying that
"David has been approached many times with a view of turning his songs into a stage production but he has always said no as he guards his legacy carefully and didn't want a cheesy show tarnishing it. But it was the involvement of Peter that really swung him."
So what do you all think of this or, perhaps more importantly, what do you think Nicholas Roeg would think of all this? Personally I think this is better than a remake, but then again I wasn't exactly up for that Evil Dead musical either.
via
Exclaim!
You might also like
quietearth (14 years ago) Reply

will somebody please make Walter Tevis's MOCKINGBIRD already!

Cyberhal (14 years ago) Reply

they'll have a hard job making a good musical show out of this. it's a brilliant movie, but it's such total downer, I don't see how it would work in that format.

sonaboy (14 years ago) Reply

this story is fake. Exclaim is a regional entertainment mag available free on street corners in Canada. There's no way that Bowie's management is releasing a big story to them. Good try though.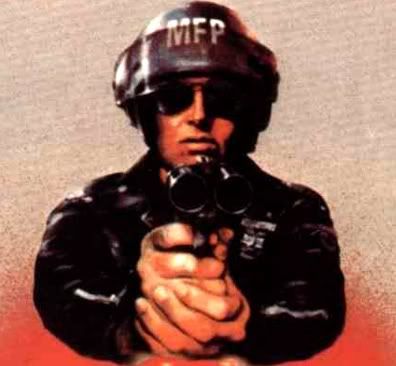 agentorange (14 years ago) Reply

The news was released through SUN UK. I chose to site Exclaim! because that's where I heard it.

However, it does seem that they may have jumped the gun on the story as:

"David Bowie has denied reports he has given permission for his songs to be used in a stage show inspired by his 1976 film The Man Who Fell To Earth.

His statement follows claims in the Sun newspaper he was collaborating with the Danish choreographer Peter Schaufuss.

Bowie's record company RZO Music said "absolutely no material" had been licensed for the proposed dance show.

But Mr Schaufuss told the BBC he had obtained the necessary permission to use Bowie's music in Denmark.

"We have done everything by the book," he said, saying the show would have its premiere on 26 September." ---- The BBC

Cyberhal (14 years ago) Reply

thank god

Leave a comment