Latest news
quietearth
[Celluloid 05.15.08]
movie
news
scifi
FINALLY! The film SO many of us has been waiting on has it's world premier on June 5th at the Hole in the Head festival in San Francisco. I'm so excited I'm actually contemplating flying in just to see this, not to mention Machine Girl. For those who've missed it, Reginald Pearry Teo's Dark City inspired DNA hacker flick has been in the works for 2 years now, and it's been one long wait. I know that it's been picked up by a major player for US distribution but nothing has been announced yet, so I was surprised to see it in the fests lineup. I am very excited to see this as the director told me in an interview there are over 300 cityscape shots and it just looks stunning as it's infused with so much german expressionism. For those of you lucky enough to be in the San Fran area who can write and would like to provide coverage (so I don't have to fly there)
here
is the HITH website with full details. Now for the rest of us, I have put linkage and footage after the break for your titillation.
UPDATE: I purchased a ticket and will be flying in for the first 2 days of the festival, so I'll be personally bringing you reviews of Gene Generation and Machine Girl!
"In a futuristic world, Michelle lives everyday battling with DNA Hackers who use their skills to hack into people's bodies and kill them. She is an assassin, battling her past demons and trying to keep her younger and extroverted brother, Jackie, out of trouble. When Jackie gets involved in a petty crime of robbery, he propels himself into the world of DNA Hackers, Shylocks (Loan Sharks) and Gang Fights. Wanting the respect that the world has never given to him only makes it harder for Jackie to peel himself away from the underground trades, against the hopes of his sister, Michelle. Michelle always wanted to leave the city and lead a calm and quiet lifestyle. As emotions and gunfire get into the way, Michelle and Jackie soon find themselves battling between their lives and finding out that in an immoral world, love can still survive; and that blood is thicker than water."
Q&A with director Pearry Reginald Teo
The Gene Generation official website
You might also like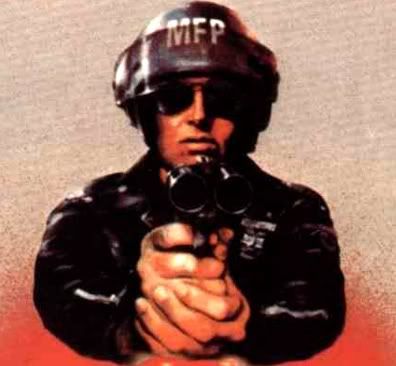 agentorange (13 years ago) Reply

Holy Crap! Cyberpunk is back with a a vengaence. That trailer just rocked my world.

Leave a comment