Latest news
Christopher Webster
[DVD News 04.21.08]
movie
news
dvd
Now this is more like it! After a couple of dud weeks we've finally got some great international and domestic home video releases coming out this week starting with one of the better horror outings of the year, Guillermo Del Toro's production of The Orphanage. Then of course there's that apocalyptic monster hit Cloverfield, a film that our own Ulises called "a new breed of monster movie." Then we have a release of the Korean horror film Black House which has been getting quite a lot festival buzz recently. Also out this week is Dragon Dynasty's Flash Point which is Wilson Yip's prequel to his uber popular 2005 hit Killzone. Then onto some stylish Samurai action in Yûji Shimomura's Versus meets Mad Max film Death Trance. And then there's the Thai shocker Sick Nurses as well as an amazing Japanese stop motion film from 2005 called The Book of the Dead. Links and trailers after the break y'all.
The Orphanage
Purchase at Amazon
A woman brings her family back to her childhood home, where she opens an orphanage for handicapped children. Before long, her son starts to communicate with an invisible new friend.
Cloverfield
Purchase at Amazon
A big monster from God knows where kicks the crap out of New York City.
Black House
Purchase at Amazon
Jun-oh, an insurance claims agent, faces off with a client who he suspects of committing murders with the intention of collecting insurance premiums.
Flash Point
Purchase at Amazon
An agent battles against three brothers of a powerful Vietnamese gang.
Death Trance
Purchase at Amazon
An unknown time. An unknown place. Without reasons. With no future. His only desire is... Destruction!
Sick Nurses
Purchase at Amazon
A group of sexy nurses who harvest organs are haunted by the vengeful spirit of one of their dead patients.
The Book of the Dead
Purchase at Amazon
Gorgeous , Incredible Animation... 'nuff said.
You might also like
bad dog (14 years ago) Reply

Hey Quiet Earth guys, do you know when The Signal will be coming out on DVD? Are you tracking that one?

BarbarPappa (14 years ago) Reply

The Signal is out on the 10th of June I think.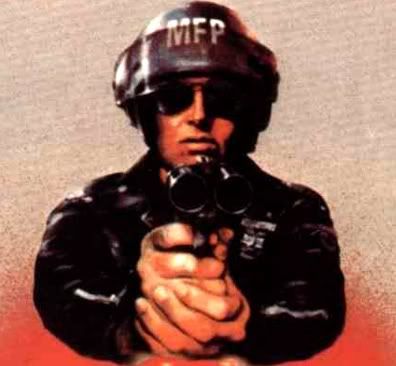 agentorange (14 years ago) Reply

That's right BarbarPappa, it's out on R1 on June 10th. And as The Signal was, in our opinions, one of the very best films of this year you can bet we'll be following it and its writing/directing team of David Bruckner, Dan Bush, Jacob Gentry very closely.

bad dog (14 years ago) Reply

It never came to my city and I've been tracking it for months so I can't wait ... By the way hey Quiet Earth guys, you ever see Mulberry Street? It's about New York falling to a disease that turns people into ratlike creatures. I thought it was okay, but considering its budget, it was actually pretty well done.

quietearth (14 years ago) Reply

Yeah I saw it at the Toronto After Dark film fest last year, I actually put up a review.. I loved it, and in fact all the apartment shots were done in just 1 apartment, they just redecorated.

Anonymous (14 years ago) Reply

http://www.quietearth.us/articles/2007/10/20/TAD-Report-Mulberry-Street

bad dog (14 years ago) Reply

Good review, that pretty much captured it. It was a "thinking man's zombie movie," which I enjoy ...

bad dog (14 years ago) Reply

Speaking of The Signal, whatever happened to the rest of the webisodes? The first one looked great, but didn't see any others ... Did they abandon the idea?

Leave a comment