Latest news
quietearth
[DVD News 04.17.08]
post apocalyptic
news
scifi
dvd
We reviewed this quite a while ago, and unfortunately it still hasn't found US distribution yet. We did however mention that it was released in Japan as STAR TROOPERS but couldn't find a link.. well not anymore. We've found one place selling it, and while it's a hefty $37.90 and a region 2 disc, it's worth it. This is a highly-stylized scifi B movie out of Spain with designs heavily influenced by the works of Leonardo DaVinci. The story is about THE BARON and the religious organization he works for (kinda like Catholicism) and their battles against evil on a futuristic post apocalyptic Earth. It is AWESOME. Check out the trailer, our review, and purchase link all after the break!
Our review of The Baron against the Demons
Baron against the demons (Star Troopers) R2 DVD
You might also like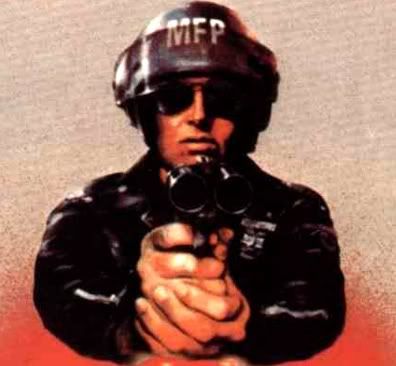 agentorange (14 years ago) Reply

I once wrote a review of this film for another publication so I thought I'd chime in here with a couple of my own sentiments.

"If Peter Jackson decided to riff on Jim Henson's puppet heavy fantasy work instead of creating an adult version of The Muppet Show with Meet the Feebles he may have ended up with something very similar to Baron Against the Demons; a gloriously crude and bawdy undertaking that is endlessly innovative in terms of using visuals to tell a relatively simple story."

"The film's production design and costume creations alone are such a terrific blend of retro steam-punk, 80's fantasy, and Z-grade sci-fi that I had to pick my jaw up off the floor more than a few times during the viewing."

"The Baron Against the Demons is a vivid, wild, and violent grown up fantasy in the vein of Roger Corman's best AIP era creations. If you're a fan of that stuff then you'll love this film."

Cyberhal (14 years ago) Reply

Wow. Flash Gorden meets 1 million BC on acid. Looks great.

Leave a comment