Latest news
quietearth
[Celluloid 04.02.08]
movie
news
action
cult
samurai
Billed as "an inspiration for Kill Bill" and based on the 70's Japanese exploitation series "Female Convict Scorpion", Sasori was recently relaunched to much fanfare, specifically by our friends over at Twitch who got the first review and liked it. They described it as more arthouse in it's style (which I love) and from a Variety review this morning, we get "bloodletting [is] plentiful, with never an opportunity lost for a crotch shot or a bulging breast" and "flashy art direction". Wow, I'm dying to see it. The story is about a woman given a deadly choice by some assassins, and after this choice ends up in jail, where she becomes ruthless like the rest. She then escapes to seek vengeance. Check out the full synopsis and link to some pics over at Twitch after the break.
"When a band of assassins invade the home of their target HEI TAI they find only his bride to be NAMI and force upon her a cruel dilemma: either she kill her fiancee's sister or they kill her fiancee. Trapped, and unable to confide in the person she loves most, Nami kills her fiancee's sister and is sent to prison where she survives only by becoming as ruthless as those around her.
Trained to fight by a fellow inmate, Nami develops the skills and strength to escape and sets out on a quest for revenge. After killing two of the assassins she's reunited with Hei Tai who's still unaware she killed his sister. As their love is rekindled Nami decides to abandon her crusade of vengeance when the remaining assassin finds them and tells Hei Tai what Nami did. Nami realizes she can never rest until she finds and defeats the assassins' employer, but now her beloved's torn between helping her and his own personal desire for revenge.
A gripping, pulpy revenge thriller re-visioning the long running cult Japanese franchise recognized as an inspiration behind KILL BILL."
Twitch stills for Sasori
You might also like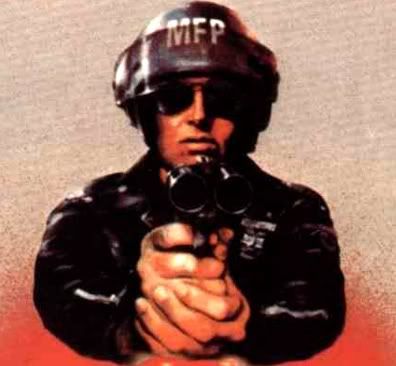 agentorange (12 years ago) Reply

Female Convict Scorpion is awesome! And this looks awesome too.

Cyberhal (12 years ago) Reply

If your LA based, you may want to check out the "You Hit Like a Girl: Ladies of Kung-Fu" film series, Sunday nights at the Silent Movie Theatre
www.silentmovietheatre.com/calendar/sunday_asianlate.html

Leave a comment