Latest news
Christopher Webster
[Cathode Ray Mission 03.22.08]
post apocalyptic
apocalyptic
news
This really makes me sad. So far, the second season of CBS' Jericho has been rocking my world. Given only 7 episodes to tell the remainder of its complex story the show's writers had to kick it into high gear early on and its been clippin' ever since. No more tedious town BBQs and pointless thanksgiving family feuds this season folks. But alas, according to The Hollywood Reporter, CBS will be airing the season finale on March 25th with an the ending that was taped to help give closure to fans. Sniff.
You might also like
on the sound (14 years ago) Reply

Somebody up there just doesn't want us to have good television.

SoldierInKorea (14 years ago) Reply

This show definitely rocked. It'll be missed.

Anonymous (14 years ago) Reply

oops.. i didnt know they even started the second season ... wonder if that was me forgetting or bad marketing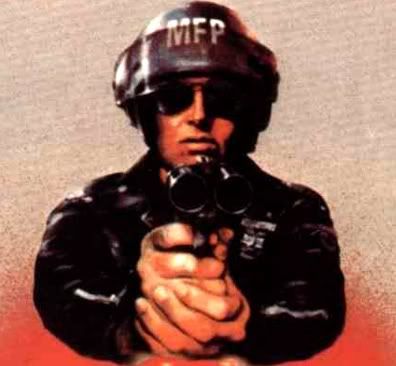 agentorange (14 years ago) Reply

Well considering Jericho was already on the chopping block I highly doubt CBS forked too much out for marketing. So I wouldn't say "bad," just very little.

bad dog (14 years ago) Reply

So with Jericho gone and BSG heading into its last season, what's left? A million reality TV shows heralding the ongoing decline of American civilization? Don't the morons get enough bad TV, what about the rest of us that apparently constitute a tiny share of viewers? PA sounds like fun, but living in a post-culture world is horrible.

G.H. (14 years ago) Reply

There are tons of good tv shows still on (almost too many to keep up with it seems). The networks might still be pumping out reality tv, but cable stations put out some damn fine shows as I'm sure you know. I've started watching Jericho again, suffering through the first part to (hopefully) get to some good stuff.

Great White Snark (14 years ago) Reply

Won't it be interesting to see how they try to wrap up the series in a mere hour-long final episode...

fro1313 (14 years ago) Reply

perhaps if Jericho had not turned into a liberal's wet dream, more people would have stayed with it.

Anonymous (14 years ago) Reply

I don't know if I'd call fear of a corrupt government anybody's wet dream, liberal or otherwise. I think the show does a good job at balancing charcters that exhibit traits of both political extremes. Is 24 a republican's wet dream? No, it all just makes for good drama.

bad dog (14 years ago) Reply

I'm old enough to remember when conservatives used to be suspicious of big government and be willing to guard their Constitutional liberties to the death. Times sure do change!

Leave a comment