Latest news
Christopher Webster
[Celluloid 03.10.08]
movie
trailer
news
horror
While there is every chance that American Zombie could wind up being an indulgent mess, Grace Lee's fake docu-comedy is at least taking a chance and approaching the Zombie mythology from a completely different and original angle. Reminiscent of that amazing post-apocalyptic pseudo-doc "Ever since the World Ended" (but with laughs), American Zombie looks to scare us as much with its look at the American mundane as with it's flesh eating monsters. Trailer and synopsis after the jump.
Synopsis: "Filmmakers Grace Lee ("The Grace Lee Project") and John Solomon ("Nonsense Man") team up to shoot a documentary about high-functioning zombies living in Los Angeles and their struggles to gain acceptance in human society.
Despite their wildly different working styles, Grace and John manage to chronicle the hopes and dreams of four fascinating subjects: IVAN, a convenience-store clerk who longs for a career in publishing; LISA, a florist trying to recover her lost memories; JUDY, a hopeless romantic who learns to accept her true nature; and JOEL (pronounced "Yo-El"), a committed political activist striving for zombie rights. As Grace strives to get to know the zombies "on their own terms," John is eager to uncover their darker side and rallies to get the crew permission to shoot at a three-day, zombies-only retreat called Live Dead where the documentary takes an unexpected – and dangerous – turn. What transpires there is beyond anything the filmmakers could imagine, as they are forced to re-evaluate their ideas about tolerance, identity politics and the future of the human race."
Visit the
the official American Zombie website
news via
Beyond Hollywood
You might also like
G.H. (13 years ago) Reply

I like my zombies non-talking (except for maybe the odd "Brains!"), dim-witted and hungry for flesh. Hopefully the zombies in the movie are more "zombie" like, otherwise how are they zombies? They just do monotonous tasks?
Sweet poster though.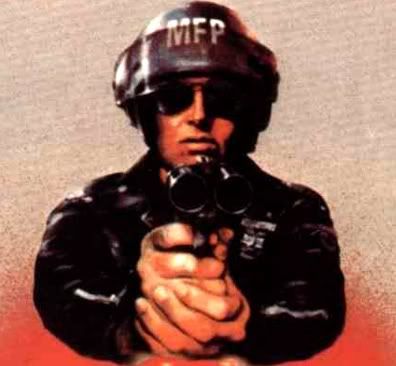 agentorange (13 years ago) Reply

A little daft I'll grant you. However I do like "are there flesh eating zombies? Well let me ask you this; are there flesh eating humans?"

If it doesn't take the Zombie metaphor to a new level then it'll just be one dimensional.

Leave a comment