Latest news
quietearth
[Celluloid 11.01.07]
zombies
movie
news
I've traded emails with writer/director James Kennedy about his upcoming movie (he also graciously provided the above pic), and I have to say, it sounds incredible! It has 3 seperate storylines and it's very character driven. It also has a serious study about media saturation, and to top off all the zombie action, there's comedy! The movie is currently being finished and will be done probably by the end of November, and yes folks, we'll be getting a copy so we can give you a taste of what James has in store for us! Seriously, watch the trailer zombie-fans, this one's hilarious.
"Infection has swept the population of the now dubbed "DEAD CITY". The government have put the region on total lock down and a state of emergency has been called. We focus on 3 stories within the city over the same period of time. Story one follows a trio of survivors trapped inside a zombie infested cinema as they try to make their escape. Story 2 tells the story of one man kicked out of his house by his girlfriend in the middle of the invasion. Story 3 is set in a sleazy bar for the bar room brawl to end all bar room brawls! Its 3 stoners and 3 hot college chicks versus a pack of wild zombie alcoholics! The latest film from Writer/Director James Kennedy (Snuff-Film, Chaos Theory)."
Movie homepage:
http://www.deadcitymovie.com/
You might also like
danny holt brown (14 years ago) Reply

my friend petr fields in this film hi pete

Anonymous (14 years ago) Reply

awesome isnt this buy the guys that did spaced i thought this came out ages ago...oh wait....

Anonymous (14 years ago) Reply

yeah because it's exactly like shaun of the dead in that it has zombies and is british..oh wait...so did 28 days later...and about 50% of any zombie movie ever made between now and the 70's! i've seen this and its awesome! people should just give things a chance before writing them off. the internets given everyone a voice but its a shame it's not given everyone common decency

mr zombieface (14 years ago) Reply

Anyone know when this is getting reviewed? I've read that it's funny as hell and looks pretty good for a no budget movie. I did a bit of looking around but couldn't find any other reviews. I did find the same people are doing an online sitcom now though called "horny single male". thats funny too so hopefully this is aswell!
i found that as www.hornysinglemale.com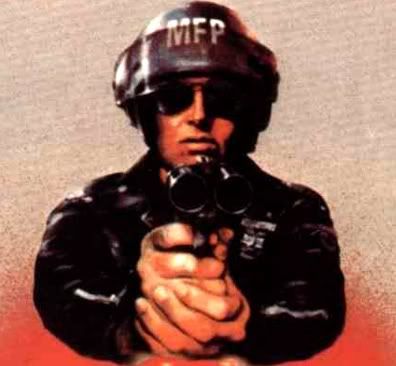 agentorange (14 years ago) Reply

Ah, funny you should ask... let's just say you might be reading more about Dead City sooner than you might think.

Leave a comment