Latest news
Marina Antunes
[Celluloid 07.28.11]
movie
trailer
news
horror
thriller
The military horror movie is a hard nut to crack. They're not as popular as some of the other genre tropes but there's something particularly chilling about individuals who are highly trained and skilled in killing being afraid that adds an interesting dimension to a movie.
The premise of Jaime Osorio Márquez's
The Squad
(
El Paramo
) isn't exactly new. The military loses contact with a secluded military base in the mountains and convinced that it's under guerilla attack, a force of nine highly specialized soldiers is sent to investigate.
Upon arrival, the only person found inside the base is a peasant woman who is heavily chained. Gradually, the isolation, the inability to communicate with the outside world and the impossibility to escape, undermine the integrity and sanity of the soldiers, causing them to lose the certainties about the identity of the enemy and creating them doubts about the true nature of that strange and silent woman.

Prisoners of fear, paranoia and a dark secret that they carry, they will challenge each other becoming animals willing to kill one another in order to survive.
Last year,
Twitch
dug up a first look at the film which looked nice but wasn't effective at building tension. With the film's Colombian release scheduled for October of this year, a new very short but much better teaser has materialized. Between the two videos - the first which builds great tension and the second which gives us a bit more of the story, I'm game to check this out.
Wild Bunch has world wide distribution rights. Hopefully that means we'll have a chance to see it in 2012.
You might also like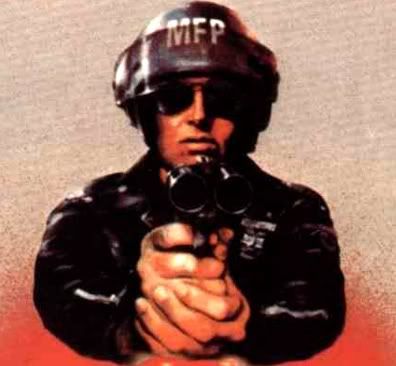 agentorange (10 years ago) Reply

Sounds like Bassett's "Deathwatch" (except not set in WWI).

http://www.imdb.com/title/tt0286306/

Anonymous (10 years ago) Reply

that kind of story has been done a lot but it can always be something different since it's such a broad tale.
military base, no communication, sent to investigate.
Will keep an eye out for it.

Alistairs new (10 years ago) Reply

r point, yellow brick road... dead birds... death watch....the out post... the bunker.... the list goes ever on....

smart alec (10 years ago) Reply

"something different" ? c'mon... this just sounds like a south american version of R-Point. Military horror as a genre is just so limited.... the only things that change are the uniforms, all these movies just follow the same plot...

Leave a comment