Latest news
Christopher Webster
[Editorials 12.31.10]
editorial
[Editor's note: If anyone says 2010 was a sh!% year for movies, please refer them to this post.]
Instead of the usual "best" or "worst" films of the year lists, I thought a good way to take a look at the highs and lows of the 2010 film year would be to compile
almost
every single review we published in 2010 and let readers meander through the wasteland as it were.
I'm really amazed at the range of films we managed to cover from around the globe this year. Quiet Earth has certainly come a long way over the years and it's really due to the talents and passion of our team of writers who literally travel a world of fests to bring news and reviews of new films.
I hope you're all taking notes. Many of these films were from fests and will probably be hitting VOD and Blu-ray sometime in the new year, so this is a good chance to get a start on your must-watch lists.
The reviews are not in order of rating, but rather in order of release.
Happy New Year! It's been a mad year and we look forward to bringing you lots of coverage in 2011.
projectcyclops rang in the 2010 New Year with his 2-partreview of the BBC's adaptation of Day of the Triffids. What started off strong ended in tragedy though and the consensus was that it was a major misfire.
Read the reviews -
part 1
and
part 2
I got some heat from readers for singling out David Kajganich's script for Blood Creek as the reason for the film's logistic failures, but more likely it was an issue of production. Ultimately I very much enjoyed the film and have seen it again since.
Read my
review of Blood Creek
.
"On the surface, Daybreakers appears to be a change of book rather than turn of the page..." says Marina in her very positive review of the Spierig Bros. vampire epic, Daybreakers. Despite many fanboys' disappointment we liked the film and forgave some of it's short comings based on a tiny budget and original vampire treatment in the face of Twilight mania.
Read
Marina's review
,
my review
and
rochefort's review
.
"It's not often you come across a movie that's freaky, creepy and depressing all at the same time. Welcome to Lost Person's Area (LPA), a sort of psychic dead zone of seekers, escapers, narcissists and one very zany little kid."
Read Rick McGrath's
review of Lost Persones Area
.
"I don't think I expected to like 5150 Elm's Way all that much, so it came as a very welcome surprise that it is in fact, an incredibly well directed and acted thriller that blew me away. The story is deceptively simple: Film student Yannick is making a documentary about his new neighbourhood when a black cat causes him to crash his bike. Knocking on the door of local taxi driver Jacques, he wanders into the house at 5150 Elm's Way, a place you really don't want to go snooping about..."
Read quietearth's
5150 Elm's Way review
.
"Not to be confused with Nicholas Barker's 1997 film with which it shares its title, Alexis Dos Santos' Unmade Beds is a modern story of romance and self discovery.
Axl has a bad habit of drinking too much and waking up in strange beds which he, more often than not, shares with even stranger individuals. He's landed in London and is searching out his English father, a man he's never met. Vera is a girl in search of companionship, something with no strings attached. The two have ended up sharing a London warehouse with a group of other individuals but their paths have never crossed but they will, you're sure of it."
Read Marina's
Unmade Beds review
With a title like High Life, it's doesn't take a genius, or even watching a trailer, to give you an idea what Canadian director Gary Yates' new film is all about. Drugs are consumed and heists go wrong in this better than expected Canadian comedy.
Read Marina's
High Life review
.
Denzel Washington's quiescent fortitude and resolution made him perfect for this role, a one-man-mission commissioned by God and executed in a perfectly understated "I'm not a hero" manner. Too bad The Book of Eli spent too much time on the drama and ended up a mediocre film reminiscent of an 80's post apocalyptic movie.
Read quietearth's
Book of Eli review
.
In a small Irish town that feels like some Pleasantville-inspired alternate reality where the 1950s have never ended, the happy Cassidy family return home from watching a meteor shower to discover a portly man (Simon Delaney) in an outrageous outfit lying in the front room of their house. His name is Zonad and he's from outer space.
Read Alan Maxwell's
Zonad review
.
The arts collective known as "Factotum" have long been an important part of Belfast's cultural landscape through their exhibitions, events and their own newspaper, but post-apocalyptic flick, Ditching, marks their debut in the world of feature filmmaking. While the film never quite achieves the lofty heights it obviously has in mind, there is every reason to hope that this will not be their last celluloid endeavor.
Read Alan Maxwell's
Ditching review
.
Canadians over 28 will know Sook-Yin Lee from her Much Music VJ days, but the writer director has recently made her mark as a filmmaker. Her multi-faceted career, which includes everything from musician to TV personality, has always been one to watch. Her collection of short films (dating back to the early 90s) have, for the most part, told stories of offbeat romances and it's good to finally see her take that left-field approach to a full length feature.
Read Marina's
Year of the Carnivore
review.
A forest. It's dark. Men circle a fire and chant a call to the gods of times past. This is a ritual that opens a door to something dark within the soul. A battle is brewing between the Celts and the Vikings and the legendary "wild hunt" will mark the beginning of the end, the frenzied hunt before the final battle.
Read Marina's
The Wild Hunt review
.
7 Days is a brutal French Canadian revenge shocker that truly has to be seen to believe. In fact it's the polar opposite of films like
Law Abiding Citizen
, that gloss over human suffering in favor of the mystery and thrills of revenge. In fact, it's about as dire and as brutally violent as a film can get.
Read my
7 Days review
.
"Add a snail's pace to very very little action about a small and boring love triangle set in some upper class version of post-apocalyptic paradise and you have Dust – hopefully it won't settle on you... Writer/Director Max Jacoby receives the full sappy Victorian melodrama award for this puffed-up attempt at a slight sexual shocker – hey… it's post-apocalyptic, Max… morals can change! Even your ending isn't heavy."
But I personally didn't think it was quite as shabby as all that ;)
Read Rick McGrath's
DUST review
.
Prom blows! Luckily CABIN FEVER 2: SPRING FEVER doesn't. This is the Ti West joint nobody wanted to touch or take credit for. But you know what? It's not nearly as bad as any of the production's principles say. In fact, it's a funny, if somewhat derivative, gross-out horror with oodles of gore for those of you who are so inclined.
Read my
Cabin Fever 2: Spring Fever review
"For those expecting a virus or plague flick, you're going to be sorely disappointed. The Crazies plays out like a simple horror-survival movie, and a weak one at that. It shares only a few plot points with its predecessor (which is btw, much much better) and fits solidly into formulaic Hollywood territory. Don't bother seeing it, in fact, I can't even recommend it as a rental. Go see the original."
Yeah, quietearth was not a fan...
Read his
Crazies review
.
"Working with Disney screen writer Linda Woolverton, Burton took Carroll's original story which he felt was more a series of events rather than a narrative, and built a somewhat fresh look at the classic tale..."
Ultimately Tim Burton's version of Alice is a gaudy and obnoxious affair in my books, but I know many who felt otherwise.
Read Marina's
Alice in Wonderland review
.
"For those outside France, I should explain the EuropaCorp recipe for a movie; it's a matter of laugh here on our Interwebs. Search Europacorp + Mozinor on YouTube you'll see what I mean. Anyway to sum that little instructive video up, it's said that a good movie should have a tough hero, protecting a whore against bad guys and car chases in Audi vehicles. With some changes to diversify the target audience, sometime the hero is Chinese, or a cop posing as a thug, or his daughter has been kidnapped to be sold as a ho, etc."
What does this have to do with this Jean Reno revenge thriller? Read The Crystal Ferret's
Limmortel (22 Bullets) review
to find out!
It may have been called
Kick-Ass
but as one of the trailers suggested, the real reason we saw Matthew Vaughn's film wasn't to see a bunch of guys with no powers and cool toys running around in tights saving the day. Oh no, the excitement was really about seeing an 11-year old girl taking names and in that respect, as well as a few others,
Kick-Ass
proved to be a huge success in our little group (with the exception of quietearth, of course).
Read
Marina's review
,
rochefort's review
, Marina's review and
quietearth's review
.
If you follow horror there's no chance you've missed mention of A Serbian Film. As Dejan Ognjanovic wrote in his review for Quiet Earth (one of the first published anywhere) "A SERBIAN FILM is the most shocking film you're likely to see this year – or any year soon. And the most shocking thing about it is how well made, well acted and poignant it is."
Read Dejan Ognjanovic's
A Serbian Film review
.
Gareth Edwards' Monsters has drawn mixed reviews from viewers, but wide sweeping praise from critics who fell in love with its ambition and focus on humans not, well, monsters.
We published one of the first reviews of the film which wasn't very positive. Then we published another that was. Guess we'll all have to see the film and decide for ourselves.
Read
rochefort's negative review of Monsters
and
Ben Austwick's positive review of Monsters
.
"Centurion", the latest from director Neil Marshall, divided a couple of our critics. The film takes place in the year is A.D. 117. Quintus Dias (Michael Fassbender) is the commanding officer at one of a handful of Roman garrisons established throughout Northern Britain in an effort to subdue and conquer the Picts, who have been successfully repelling the Romans through a prolonged campaign of guerilla warfare.
Awesome cast and the usual brutal touch from Marshall makes Centurion a win in my estimation, but you can read
rochefort's Centurion review
and
Bob Doto's alternative take in his Centurion review
.
I lavished a lot of praise on Cargo in my early review and still stand by every word. The production values match the epic, yet human, storytelling to make the film a standout of 2010 and of foreign space flicks.
Read my
Cargo review
.
A group of college kids take a trip into the backwoods for a weekend of sex and swimmin', only to find their numbers dwindling as one by one, they succumb to gory deaths. Are they victims of the hillbillies they encountered at a nearby gas and bait store? Well, no, and we're all better for it. "Tucker and Dale vs. Evil" stars Alan Tudyk and Tyler Labine, respectively, as the titular hillbillies in a comedy of errors that puts a welcome, often funny, and extremely bloody spin on the overworked redneck slasher formula.
File under "Why hasn't somebody thought of this already?"
Read rochefort's
Tucker & Dale vs Evil review
.
Anthony Burns' "Skateland" is an early 80's coming of age story, one that will inspire a bit of deja vu for anyone who's seen "Dazed and Confused", Richard Linklater's 70's-set ode to feathered hair and cut-off jeans. But, unlike "Dazed", which proved a smart director can breathe new life into a worn-out genre, "Skateland" may be the movie that inspires a moratorium on similarly-themed pics until we can get some guarantees that the next one will be at least a little better than the average Afternoon Special.
Rochefort lavished the hate on this one in his SXSW
Skateland review
Another film from 2010 that has to be seen to believe is Amer, a stunningly rendered study of a woman's descent into psychosis, artfully narrated through three days of her life, first as a sexually-shocked child, then as a bashfully sexy teen, and finally as an adult woman ultimately going mad in the crumbling ruins of her childhood mansion.
Read Rick McGrath's glowing
Amer review
.
We all had high hopes for Clay Liford's indie scifi flick about a group of people who find out they are actually aliens. But then the review came in from SXSW...
To quote: "Dodgy. All of it very, very dodgy, from the extremely low-budget and not-so-enthralling special effects, to the extremely earnest and often hysterical performances, to Liford's insistent reliance on numerous montages and dream sequences to, you know, remind you that you're watching some art."
Read rochefort's
Earthling review
.
British horror "Outcast" pretty much came out of nowhere and won me over quickly with its dark, moody mix of seedy urban angst and modern-day witchcraft. Think of this as a fringe benefit of the success of the "Harry Potter" series, this one decidedly more for the over-18 set. If you're at all a fan of U.K.-set "Estate" movies (including everything from "Trainspotting", to Neil Gaiman's "Neverwhere", to the "Misfits" tv series, up to the recent "Harry Brown"), then you already know the atmosphere on display, and "Outcast" opts for the dingiest possible depths, using grainy sepia night photography, back-alley griminess, and sparse, apocalyptic set design to excellent effect.
Read rochefort's
Outcast review
.
Simon Rumley returns from
The Living and the Dead
with Red, White and Blue and if you're at all familiar with the works of O. Henry, then you have some idea of what to expect in the narrative. There are twists, to be sure, but they ultimately amount to a tragedy of errors, and every character ends up in a much, much worse place than where they started. What's particularly grim about "Red..." is that most of them start from a place that's pretty freakin' depressing to begin with.
Read rochefort's
Red, White and Blue review
.
At times creepy and macabre, Sweedish horror Psalm 21 delivers an engaging and suspenseful narrative amid a dark atmosphere, rich in foreboding. Though the delivery of its message hijacks the latter parts, overrunning and drowning out the horror that set it up, Psalm 21 is a deep film ripe with robust performances and deft production that easily solidify it a place among the genre's better films.
Read oblivion's full
Psalm 21 review
.
The trailer for Michael Lander's Peacock suggested a strange, somewhat creepy tale of John Skillpa, a quiet man with a secret, a secret that the trailer gives away. But even with the big reveal thrown out so quickly, the trailer does something else: it suggests a film with mystery, intrigue and perhaps a little something sinister as if the fact that John is also Emma is simply a passing fact of little consequence sadly, the truth about Peacock is much less mysterious.
Read Marina's
Peacock review
.
Desert Son is a stylishly filmed, angsty coming-of-ager that feels a lot like Larry Clark riffing on the wilderness survival genre. That is to say it is a haunting look into the dark side of aimless adolescence that pulls no punches when examining how messed-up kids can be when drunk on a potent cocktail of confusion, raging hormones and ego. And with an odd little family / love triangle at its core, Desert Son even manages to ruminate on how the dysfunction we're brought up with becomes the baggage we carry around with us forever.
A film currently lost in distro hell, Desert Son is worth checking out if and when it becomes available.
Read my
Desert Son review
.
How inevitable you thought a Descent sequel would be all depends on which version of Neil Marshall's original film you watched. Personally, I never would have imaged it. I saw the UK version and the way I remember it ending is with a nasty twist. You think Sarah has escaped the subterranean nightmare only to discover her escape was all in her head. She's actually lost her mind and is ready to die and be with her daughter in the afterlife. In America, this ending was truncated so that twist was edited out. It's from this version that the Descent: Part 2 springs.
Ultimately The Descent part 2 added little to the mythology of the first film and ends up almost feeling like a remake. Fun and gory with tons of kills and more cave dwellers, but that's it really.
Read my
Descent 2 review
.
Ever wake up and think: "Yes. Today is the day I'd like to have my inner ears tied to a seven-story turbine as it vomits the digested inhabitants of an insane asylum, while the inside of my eyes are continuously violated watching a conveyor belt sexually molest itself?" Ever feel that way? Yes? Great! Perhaps you'd enjoy TETSUO: THE BULLET MAN.
Read Bod Doto's
Tetsuo: The Bullet Man review
.
An early clip of the long awaited SPLICE featured a sequence showing a beautifully animated creature somewhere between cute and scary being chased round a laboratory. It promised a special effects-laden, action packed and jumpy bit of sci-fi. Thankfully, our opinion was that Splice was one of the most rounded and accomplished science fiction movies of the year.
Read
Ben Austwick's Splice review
and
rochefort's Splice review
.
Philip K Dick is beloved by film makers who have found a rich seam of inspiration in his work without fully exploring its madness. Ridley Scott's Bladerunner bears only a passing resemblance to the story it is based on, Minority Report and Total Recall take the slightest of inspiration from his writing, while the much more faithful A Scanner Darkly has plenty of detractors among Dick's fans. Nevertheless these fans look forward to any adaptation with baited breath, and the development of Radio Free Albemuth has been followed closely by the science fiction community. The good news is that this is the closest to Philip K Dick cinema has got yet, though a rather flat viewing experience perhaps explains why other directors have been reluctant to stay true to his work.
Read Ben Austwick's
Radio Free Albemuth review
.
Our own Robert Doto coined an entire new genre in his review of Bit Punk flick, Spork, a sweet little film dressed in an 80s veneer about a young girl-identified hermaphrodite named Spork (Savannah Stehlin) making her way through the vicious absurdity that is Junior High. Sounds weird right? Well it's supposed to be pretty great.
Read Bob's
Spork review
.
Transmission: On
Ever wonder what it might be like to live in a world where no computer screens or TV monitors work? Ahh, you're thinking – a snap. Who needs that stuff, anyway? Surprise… you're going back to a basically agrarian lifestyle. And it's not as much fun as you'd think. It could, in fact, drive you crazy.
Read
Rick McGrath's review
of Transmission and
Ben Austwick's review of Transmission
Deborah Tennis is the borderline-crazy inheritor of the Victoria, one of San Francisco's last single-screen theaters, left to her by her recently-deceased father. When her vicious stepmother tries to force her to sell the theater to make way for a Bed, Bath and Beyond, Deborah loses it and stabs her to death in the Victoria's lobby, and the security cameras catch the whole thing. Through a wacky mix-up of the sort that only happens in the movies, the audience in the Victoria gets to watch Deborah's murder moments later... and it's a hit.
Read rochefort's
All About Evil review
.
Ever feel disappointed after hearing great buzz about a film? Well that's what Mystery Team is. It's not a scooby snack of childish deadpan humor but a childish take on humor itself. From time to time, the outside world intrudes in and our "team" is degraded or humiliated, but this just wasn't often enough. If they had made this the entire film, they would have had a winner.
Read quietearth's
Mystery Team review
.
Chris Smith is a director with a tight release schedule. The premier of Black Death came in less than a year after the premier of Triangle at last summer's Frightfest. The economic reality of being an up-and-coming director nowadays?
This has tripped some film makers up. Nicholas Refn's recent Valhalla Rising, in many ways a similar film to Black Death, was let down somewhat by a rushed second half. Chris Smith seemed to have a tighter grip on the production process, and although Black Death shows some of the imperfections of a punishing schedule, it is on the whole atmospheric and well constructed with an intelligent, thought provoking finale. In other words, not a bad journey into hell.
Read Ben Austwick's
Black Death review
.
"What do you call a monkey that has developed neurosis?"
"A human being."
Welcome to the asylum, where your doctor will be an enormous beard, sporting a loudspeaker at its centre. Your nurse may remind you of the cruel ballet instructor from Suspiria, and her assistants Mickey and Mini are always on hand. The twisting corridors lead to all kinds of bizarre chambers and freaky quarters, as The Beard says himself, "Our architect was also an inmate." The only problem is that the world on the outside is now so crazy, that space on the inside is limited. Anyone hoping to stay will have to convince Doctor Beard and Nurse Milly that they're the real deal. "May the best lunatic win."
Read projectcyclops'
Asylum Seekers review
.
Based on Jim Thompson's novel of the same name, THE KILLER INSIDE ME is an uncomfortably possible story that tells the tale of soft-spoken Texan police officer, Lou Ford (Casey Affleck), who, after meeting, being slapped by, and subsequently spanking and having sex with a prostitute named Joyce Lakeland (Jessica Alba), allows his darkest of demons to run amok. Frigid hostility, demented wit, and relentless brutality, all make TKIM a film worth seeing, IF you can stomach it and are not completely turned off by male on female violence.
Read Bo Doto's
The Killer Inside Me review
.
In Stuart Hazeldine's gripping directorial debut, eight job candidates assemble in a cold, sterile room. They are given a desk, a chair, a pencil, a piece of paper and a set of seemingly simple instructions (which, of course, will NOT be repeated). All they have to do is answer one question and they could walk away with the job of their dreams. They have 80 minutes. But, when they turn their papers over they find they are empty.
Start the clock. Let the fun begin.
Read my
Exam review
.
Paul Andrew Williams follows up his previous films London To Brighton and The Cottage with this home invasion shocker. Set in a middle-class suburb it concerns a middle-aged couple, Cristine and Michael; unaware that their son Sebastian has acted as a grass (or snitch) on a local gang when three boys suddenly force their way into the house, duct tape and beat Sebastian's parents, and wait for him to return home.
Read projectcyclops'
Cherrytree Lane review
.
From its haunting title sequence which couples CCTV stills from a robbery alongside a striking painting featuring a savage pride of lions, you know that ANIMAL KINGDOM is a piece of art. Revealing the painting in short, fractioned and deliberate shots Michod balances it out with the beginning of composer, Antony Partos, devastating score that evokes the creeping dread of a Michael Mann film.
Read kilowog's
Animal Kingdom review
.
Brought to you in "Glorious Panzervision", Jackboots On Whitehall was possibly the best film at the EIFF this year for sheer entertainment value. It's a real gem with a dozen jokes a minute and a sense of fun and knockabout silliness that's rare and immensely enjoyable, and as a debut feature from animation enthusiasts, which started life as a screenplay in 2006 and is the first feature of its kind, the talent on display from the McHenry's is, if I may say, staggering.
The WWII historical fiction, puppet animation begins with a desperate battle for Britain over the skies of Dover, as Spitfires and Messerschmitt blast bursts of machine gun fire and explode mid-flight. Soon the Nazi war machine reaches the shores of England and the good people of God's own green and fertile land will have to mount a resistance to the menacing Hun, who have tunnelled under London for a blitzkrieg attack!
Read projectcyclops'
Jackboots on Whitehall review
.
The easiest way to describe this adventure would be Bourne meets Cube 2. The first half is slow, but the second half is brilliant. Action packed, the scifi premise allows some incredible, and aptly used, flexibility. Inception proved a blockbuster and might be rightly called a classic. Further, it places director Christopher Nolan up there in the pantheon of those greats who make a couple of good movies and will make us salivate with each successive piece of crap they put out. Bluntly put, I don't think he can keep this up.
Read quietearth's
Inception review
.
Over the decades, grindhouse has taken on different incarnations, changing and adapting to the times, the culture and the audience and Elijah Drenner's first full length feature documentary
American Grindhouse
does a great job of walking the uninitiated through the history of the genre (though it's much more than that) from the early days of Thomas Edison's invention of the camera to the old burlesque theatres of New York's 1940s 42nd Street and into the 70s when grindhouse seemed to be everywhere.
Read Marina's
American Grindhouse review
.
If you've seen an action movie in the last ten years you've seen at least one of The Expendables in action. Statham and Stallone are really the stars here, little Li and grumpy Lundgren the co-stars and Coutor and Crews an afterthought. Of course, Mickey Rourke turns in the best performance of the lot as a retired-mercenary-turned-tattoo-artist. Everyone gets at least one moment to shine, but in the end I think audiences cheered most for Li and Statham and Terry Crews' oversized cannon (that sounds weird) which tears people to shreds.
Yes, the violence is plentiful in The Expendables. In First Blood, Stallone didn't kill anyone. In The Expendables, Stallone kills everyone. To put it like Gary Oldman in The Professional: EVERYONE!!. It's not quite as gruesome as the last Rambo (probably because the tone of Expendables is a little lighter) but the body count is approriately high for this kind of throwback. Good stuff indeed.
Read my
Expendables review
.
Australian cinema is usually associated with superficially entertaining genres like comedy and horror rather than anything that runs a bit deeper, and at first Red Hill, which presents itself as a Western of wisecracking rednecks and blistering shootouts, seems to be the usual breezy fare. But an about-turn that sucker punches you at around the half way mark adds layers of meaning, propelling the film to a conclusion as emotional as it is powerful.
Read Ben Austwick's
Red Hill review
.
If you're going to make a zombie film nowadays you'd better be original about it, and thankfully The Pack manages this and more in a grim, grimy and bleakly funny movie that keeps the tension running right to the end. That that end is muddy and confused is a bit of a let down, but it's a fun journey all the same.
Read Ben Austwick's
The Pack review
and
projectcyclops' The Pack review
.
It's my feeling that critics are being a little too easy on Adam Green's Frozen. I guess in a way I can see why. After the gleefully gory fun of Hatchet the relative newcomer was proclaimed the great white hope of indie horror and everyone awaited what he'd do next. Chairlift horror? Didn't see that coming! Unfortunately, looking beyond the high concept of three people trapped on a chairlift, Green's script feels like a first draft and the plotting is repetitive and kind of sloppy when it should be unpredictable and nail bitingly suspenseful.
Read my
Frozen review
.
With his feature follow up to "Mullberry Street" U.S director Jim Mickle brings us a post apocalyptic view of a near future where mankind is beset by a virus which turns it's victims into Vampires, leaving the survivors to pick through the crumbled remains of humanity while keeping one eye over their shoulder.
The States depicted in Mickle's ravaged future are far from United as survivors gather in small communities, clinging to whatever they can in order to preserve what little they have left, material or otherwise. It's a world where strangers are viewed suspiciously and night comes around all too quickly.
This is one we're ALL waiting for as it's been getting nothing but praise all year.
Read rochefort's
Stake Land review
and
Corridorstyle's Stake Land review
from Sitges.
Based on a story from sci-fi author Elia Barceló, Transfer is director Damir Lukacevic's first foray into the world of genre film making but it isn't so much a sci-fi film as a drama of what makes people individuals and a film which forces us to question the morality and benefits of the use of certain technologies.
Taking place in the near future, Lukacevic's film works off of the concept that advances in technology have rendered death unnecessary. For those few rich enough to afford it (and willing), there's an option to have their conscious transferred but not to a machine or a robot but into another human being.
Read Marina's
Transfer review
.
Will 2010 become known as "that year that the movie about the serial killing, telekinetic tire came out?" Either way, if you're looking for a wacky, ultimately silly story you're in for a real treat. Whereas if serious, "meaningful" film is more your cup of tea, you might not want to hold your breath for Quentin Dupieux's
Rubber
.
Read Marina's
Rubber review
.
The prolific Takashi Miike tends to be hit or miss. When he's firing on all cylinders, his work is spectacular and when he's missing, the films are still spectacular but there's a whole lot more head scratching going on (God's Puzzle anyone? Bueller?) His most recent, the samurai action drama 13 Assassins, isn't just Miike firing on all cylinders. It's Miike firing all cylinders and then blowing up the gun to prove a point: that he too can direct a samurai film, one that follows some of what we've come to expect of samurai films while still delivering a film that is very much a Miike original.
Read Marina's
13 Assasins
review.
Ever wonder why we haven't gone back to the moon since the 70s? Maybe there are structures on the moon that the government doesn't want us to know about. Maybe they were put there by intelligent beings from another dimension. Or maybe the beings out there are humans who have travelled to our time from the future and are guiding our existence to make sure we don't mess things up too badly.
Matthew Avant's
Lunopolis
takes all of these conspiracy theories, along with many more, and rolls them into this "documentary."
Read Marina's
Lunopolis review
.
Skyline
does well with its mediocre, over wrought story (accompanied by a bombastic score which sounds like it was lifted directly from
Independence Day
) until the final 15 minutes when it goes completely off the rails and into melodrama squared.
It's not the best alien invasion film we've seen and it is likely only one of the first of the barrage that will pop up in the coming years but
Skyline
is a fun watch and I'm impressed that the filmmaker's stuck to their guns and provided a fatalistic ending to their story.
Read Marina's
Skyline review
.
Rare Exports could potentially become this generation's Goonies, Gremlins or The Gate. And that's high praise, I think. To be the next cult holiday favourite spread among those young enough to get nightmares before Christmas would be a sweet deal for any movie.
For anyone over 25 though, this little-evil-Santa-film-that-could, will feel less like turkey dinner and more like cookies and milk... it is a little underdeveloped for my liking. BUT, and this is a big but folks (heh), it's a fun way to spend an hour and I would recommend it for anyone looking to spice up their Xmas viewing with what is probably the most original holiday concept film to come along in a while.
Read my
Rare Exports review
.
I can't, with just one viewing, truly make sense of everything that director Panos Cosmatos presents in
Beyond the Black Rainbow
but the truth can't be denied: his feature film debut is one of the most exciting the sci-fi genre has seen in years. Borrowing heavily from the look and feel of 70s and 80s sci-fi and paying homage to everything from Cronenberg's
The Brood
to George Lucas'
THX 1138
, Cosmatos presents a trippy, awe inspiring vision that made my head spin.
Read Marina's
Beyond the Black Rainbow review
.
You might also like
Adam Grikepelis (11 years ago) Reply

"Australian cinema is usually associated with superficially entertaining genres like comedy and horror rather than anything that runs a bit deeper".
I'm not sure whether this shows how little Australian cinema gets seen internationally, or how little you know about it agentorange, because this statement couldn't be further from the truth. To the extent that the cliched opinion of it in the Aussie media is that it's too often serious & depressing & not commercially entertaining enough! but it's a phase, the line use to be that scripts were never developed fully enough before being funded. the grass is always greener...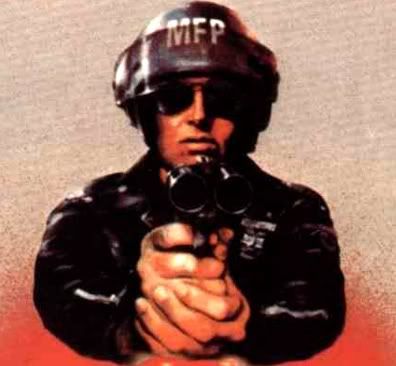 agentorange (11 years ago) Reply

It's probably a combination of both actually. I watch way too much Ozploitation for sure, and Australia doesn't really export a ton of their more dire product (they are similar to Canada in that way).

Having said that, I have also seen the gamut of Aussie new wave stuff from the 70s and 80s (read: Picnic at Hanging Rock, Last Wave etc.) so while I'm no expert, I think I've done the continent justice in my viewing over the years.

Also - Ben wrote that, not me. I just lifted it ;)

RichardRider (11 years ago) Reply

Keep up the wonderful work. I check the site every day!

Have a great new year!

Michael Allen (11 years ago) Reply

I am fuming with jealousy now at the reviewers who saw Stakeland, The Pack, Red Hills and others. Nice article. Happy New Year! -Mike

chuck (11 years ago) Reply

I always love your lists because they alert me to stuff I may have missed. This time it was an off-hand comment about the series Misfits. How did I miss this one? I just watched the first season straight through and it is awesome. Thanks.

toro (11 years ago) Reply

Yep. Daily read. Have a happy new year! :)

Anonymous (11 years ago) Reply

Australia is unluckily most notable for crap like Crocodile Dundee. Lucky for us, we have places like Quiet Earth, that are showing everyone that Australia has more to offer than Paul Hogan, Foster's Beer and Koala's.

musicfan2012 (11 years ago) Reply

Best part of Book of Eli: Sharpening machete to Al Green's "How Can you Mend a Broken Heart." One of the best moments of 2010.

soma (11 years ago) Reply

I WANNA SEE STAKELAND

Adam Grikepelis (11 years ago) Reply

appologies, agentorange, think I was in a shit mood that day.
though I reckon I was thinking of the last 20 years of Aussie cinema. 70s & 80s seems to be decently represented overseas, from what I can tell. Hell, this website probably has more news about Australia (genre) cinema coming out than any news down here sadly.
and Canada seems like a pretty good comparison...

Leave a comment