Latest news
Christopher Webster
[Celluloid 10.23.10]
movie
trailer
news
scifi
I like Nick Stahl. Don't know why he's not in bigger movies. His turn in Carnivale was certainly stellar and he was a decent John Connor. So what gives? Instead he's doing stuff like Speed of Sound which granted sounds great on paper, but looks a little flimsy here in the first trailer.
Synopsis:
Joshua Lazarus (Nick Stahl) is a scoper a telepath who can listen to people's thoughts. There are only a handful of scopers in the world. With proper training, a scoper can learn to control the voicecs. But the gift is deadly, a scoper goes insane by the age of 29. Joshua is 28.

Joshua and his mentor work with the government in exchange for a cure. While on a mission, Joshua meets an untrained scooper, Anna (Mia Maestro). Through their unique ability, they open up their minds to each other and quickly fall in love. But the government won't allow it. They plan to disappear and start a new life together, but are soon discovered and torn apart.

With the help of his childhood friend (Taryn Manning), Joshua is forced to discover the truth about his abilities and those around him.
Speed of Thought also stars Taryn Manning, Mia Maestro and the legendary Wallace Shawn.
Trailer after the break.
You might also like
Anonymous (11 years ago) Reply

Looks cool. All movies featuring telepsychowhoozitz is cool. Your review was also endearingly linguistically fumbly.

Hank. (11 years ago) Reply

I also like Stahl. Until I saw Mirrors 2 last night. Now I hate the world.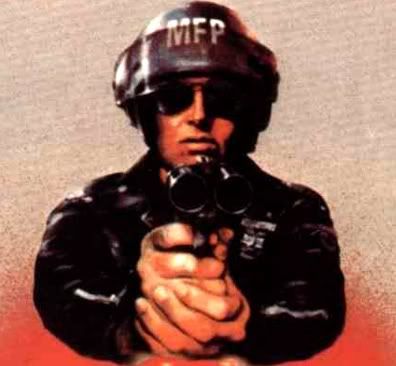 agentorange (11 years ago) Reply

Ouch. No good hey? Haven't watched it yet. Wasn't that big a fan of the first even.

elmtree (11 years ago) Reply

The guy who edited this trailer deserves life imprisonment,or something even worse.

rek (11 years ago) Reply

A less action-driven addition to the Jumper-Push dynasty?

Hank (11 years ago) Reply

agentorange: didn't like the first one, dunno why I had to watch the sequel. Total mess, sloppy and no fun. One ok nude shower scene, heads do roll but after it was over I felt used. There's an hour and a half that I'll never get back :)

Anonymous (11 years ago) Reply

"Ya know its hard out here for a scoper!"

Susan (11 years ago) Reply

I seriously don't get why Stahl is always in such crappy indie flicks. He really is massively under rated. He's easily as good as many A listers (Keanu?). Just bad at picking scripts? Dunno. But I'll watch anything and this looks somewhat entertaining. Nick: Do another gooder like 'In The Bedroom'.

SRV (11 years ago) Reply

Where can I find this movie? Is it out already?

Leave a comment