Latest news
Christopher Webster
[Celluloid 06.15.10]
movie
news
scifi
gallery
[Editor's Note: Wouldn't this be even cooler if it was about robots who make humans box? Just sayin'.]
Ever since Futurama showed me the possible joys of robot boxing in the classic episode, "Gender Bender," I've dreamed of a future were people pay to see 2000 lb robots beat the crap out of each other in the ring. Well, a new film based on Richard Matheson's short story "Steel" will get me a little closer to my dreams. Reportedly, the film will feature a lot of practical FX work mixed with mocap to bring us a very realistic feel to the fighting. Sounds great.
Synopsis:
A future-set story where robot boxing is a popular sport and centered on a struggling promoter (Jackman) who thinks he's found a champion in a discarded robot. During his hopeful rise to the top, he also discovers he has an 11-year-old son who wants to know his father.
The first image from the film starring Hugh Jackman and directed by Shawn Levy (puke) has been revealed (via:
comingsoon
) and it gives us a pretty good look at our soon-to-be robot overlords. Check it out after the break!
You might also like
Geoduck (11 years ago) Reply

If you want truly classic, Matheson himself wrote an adaptation of his story for an episode of the original Twilight Zone.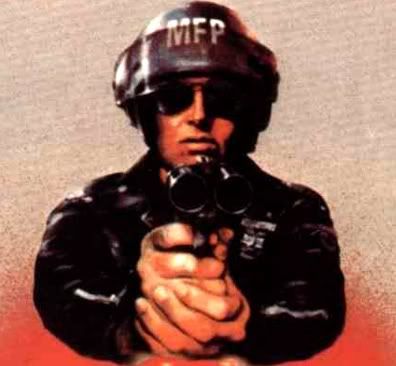 agentorange (11 years ago) Reply

Do you remember what season it aired in? I think season 1 is coming out on blu-ray soon.

Anonymous (11 years ago) Reply

what the hell. its like robot wars the movie. but even that would make more sense. if we cud build robots that are cool and fight, surely they wouldnt just be boxing?

also what are they trying to do there, "struggling promoster thinks hes found a champion in discarded robot" ?? sounds like a real life boxer version of WALL-E? that type of thing best works in animation..its heart to feel for a robot....see irobot (at least that one had a humanoid face).

i dont wanna hate on this movie. i know all we got is a synopsis but man..i wouldnt put my money on it.

Hot Fuzz (11 years ago) Reply

Remember Robot Jox? Now I want to watch Robot Jox.

Geoduck (11 years ago) Reply

Re: the Twilight Zone episode. It was in the fifth season, under the title "Steel":
http://en.wikipedia.org/wiki/Steel_%28The_Twilight_Zone%29

Rick. (11 years ago) Reply

Love the Twilight Zone episode. One of my favorites.

rek (11 years ago) Reply

ROCK'EM SOCK'EM ROBOTS: THE MOVIE

Personally I can't wait for CUP & BALL.

Leave a comment