Latest news
Hal MacDermot
[Celluloid 08.13.09]
movie
review
scifi
action
Year: 2009
Directors: Neill Blomkamp
Writers: Neill Blomkamp & Terri Tatchell
IMDB:
link
Trailer:
link
Review by: Hal MacDermot
Rating: 8.8 out of 10
If you like sci-fi, aliens, originality and a dash, well a dollop of political satire, then this is a film for you. Neill Blomkamp's debut feature grabbed me at the beginning with its mockumentary style opening and held me tight right until the bio-machine action fight finale. This is the best big sci-fi movie for ages, and the only one ever set against the powerful backdrop of a shanty town, located in Soweto, South Africa. Disappointed Terminator Salvation people, remake of War of the Worlds hacks, and The Day the Earth Stood Still rehash squad: pay attention, because here we have a thought provoking, fun and original movie and your studio machines could learn something.
Blomkamp skillfully mixes a documentary style with real news footage, with handheld and mini cam shots to create an original look that captures the gritty feel of the alien refugee camp that is District 9. It's Cloverfield meets Robocop meets City of God (sorry, could I be more random?). The alien weapons kick ass and the performances, by actors unknown outside of South Africa, are spot on.
In an alternative reality 20 years ago, a massive alien spaceship comes to Earth, and for no apparent reason ends up hovering not above LA (ha!) or NYC (ha!) but above Johannesburg, the capital of South Africa. It's never explained why the aliens show up, but there's a million of them, and they are a very ugly and seemingly apathetic lot. They're 7 feet tall, and look like a cross between an insect and a crustacean, with maybe a bit of squid thrown in around the face. Humans call them prawns and we soon get sick of these lazy losers, and as they don't seem to be able to even fly their own ship, we chuck them into a trash filled shanty town and build a high fence all the way around it. A vicious Nigerian gang moves in to supply the prawns with contraband, which chiefly consists of tins of cat food (yes, that's right) which the aliens love. The Nigerians horde the aliens' bio-weaponry, but the guns need alien DNA to function, and so are completely useless in the hands of humans. After 20 years, the Government and local population have become so sick of the prawns, they plan to "relocate" them to a tent city concentration camp called District 10. If the shanty town location looks realistic, the reason is that it's a real one called Tshiawelo, just outside Soweto, and it turns out that the Government had just booted out all the residents to "relocate" them 20 miles away. So the filmmakers bought up the empty land and used it as a set.
The task of managing the relocation is given to the private contractor Multi-National United (MNU), who are also a major arms manufacturer (I'm sorry, did someone say Halliburton? No, oh okay). The job of organizing the move is given to eager beaver bureaucrat Wikus van der Merwe, who is brilliantly played by Shartlo Copley, and guess what? It's his first feature too. It was Mahatma Gandhi that said "You can judge a society by how they treat their weakest members," and that maxim applies in buckets here. Wikus is happily serving eviction notices to prawns who don't really know what's hit them, when he accidentally touches some alien gloop that alters his DNA, and his body starts to become prawn. Wikus now becomes the most valuable man alive as with his alien DNA he is capable of deploying the awesome alien weapons. He's also the only man around who may be able to return the aliens to their ship, and basically everyone wants a piece of him. I loved the transformation from chirpy annoying bureaucrat to hunted, half alien hero. If only all bureaucrats could sup a little alien gloop the world might be a better place.
Blomkamp and producer Peter Jackson had been working on a motion picture version of the Halo game, when that project collapsed after 5 months. There were rumors that Universal and Fox weren't happy with entrusting a $145 million project to a bloke who'd only done TV commercials and music videos. I guess they should have trusted Peter Jackson's judgment on this one. Personally, I'm glad that these guys were liberated and able to actually make a film they loved rather than have a bunch of suits pulling the strings, filming by numbers and clichés. District 9 is based on Blomkamp's 2005 short mockumentary "Alive in Joburg" where he developed the "look", and it's on Youtube if you want to check it out. Blomkamp used to be an FX guy, and Peter Jackson's New Zealand WETA studios had a big input in designing the aliens and weapons, which are brilliant at exploding and liquefying organic material and I know my mate Don will want one.
The visuals and locations are kick ass, but much of the film's power comes from the subtext: a film about segregating aliens in a country that until 1994 practiced the apartheid policy of separating blacks and whites. There's another level too. When the film was being shot, some of the local South African population was actually busy torching the homes of refugees and immigrants from the neighboring country of Zimbabwe. I don't think Blomkamp was trying to make direct parallels, but of course the ideas and themes infuse the entire film. Like all great art, it makes the viewer question themselves. You get touches of that in Total Recall with the way the mutants on Mars are segregated. In District 9 we are much closer to home, and to history. But this isn't some heavy handed blah blah political lesson type film. Apparently, Blomkamp stuck notes on his wall with the word "satire" to remind him of the tone he wanted, and I think it worked. Aliens who love cat food? Ha Ha. Can't wait for the next one from Blomkamp.
You might also like
Skinstripper (13 years ago) Reply

Good news. I'm happy to hear it's not heavy handed, as I know alot of people who are hesitant to see the film due to that worry.

Pat (13 years ago) Reply

over at aintitcool they are also raving with praise. best film of 09 so far apparently. thats a lot of gd backup.

Jonas (13 years ago) Reply

God damn it.. my expectations are way too high for this. I'm looking forward to it like I've done for no other movie for the last couple of years. This is just doomed to disappoint. :/ I can't wait. I can't wait. I can't wait. I can't wait. I can't wait. I can't wait.

Phoebe (13 years ago) Reply

Can't wait to see this!!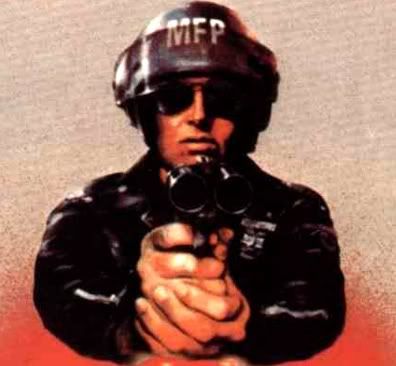 agentorange (13 years ago) Reply

Only skimmed the middle of the review as I'm seeing the film tonight and don't want too many spoilers. But damn if you haven't made me want to see it even more. Nice one Hal.

Anonymous (13 years ago) Reply

First Moon and now this... dare I whisper the word renaissance?

Ryan B (13 years ago) Reply

Spot on review for this great movie!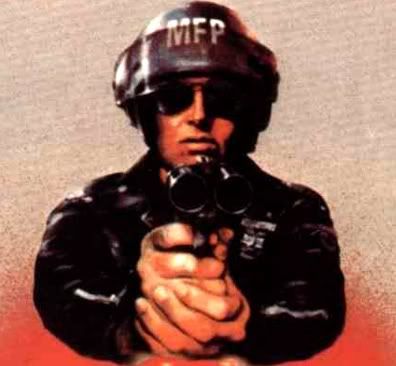 agentorange (13 years ago) Reply

Wow. Just got back from a screening and I have to say, that s**t was INTENSE. It literally never lets up.

The main plot conceit is simple but effective. Dramatically it's brutal, smart, touching and extremely grown up. So often summer films are so tailored to family audiences that they loose something important. D9 makes no apologies for what it is and it's all the better for it. Sharlto Copley's performance is stellar.

The FX integration alone is worth raving about. And that whole powersuit ending? Jesus wept that was some amazing filmmaking.

Pat (13 years ago) Reply

i know this is a strange, maybe dumb question but in terms of action, pure adrenaline..not necesarrily special effects work...can it hold up with transformers? two friends of mine who have seen it were arguin about it quite extremely. not whats the better film...thats quite an easy choice haha. just the action factor. what would u guys say?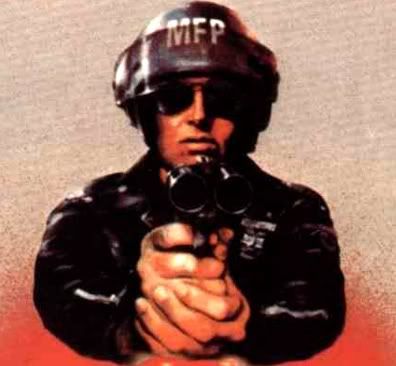 agentorange (13 years ago) Reply

@Pat

Not a "dumb" question at all. Both are ostensibly positioning themselves as summer blockbusters so to compare and contrast an element like "action" makes perfect sense.

I think it comes down to preference which is why your friends were probably arguing. D9 isn't trying to accomplish the same thing as Transformers at all. I don't like this idea of "pure adrenaline" like a film is supposed to drag you along for a ride and sacrifice drama. D9 went for less action, but action that carries greater dramatic consequence. If a transformer gets destroyed in a moment of pure adrenaline it doesn't matter to the story at all, and therefore we don't give a crap. If Wikus fails it completely matters. You completely care.

D9 is hyper-realistic (which I prefer) whereas Tranformers is waaay more comic booky and logic bending. I like both kinds of action, but prefer D9s approach.

Leave a comment