Latest news
quietearth
[Celluloid 07.27.09]
movie
review
horror
drama
Year: 2009
Directors: Buddy Giovinazzo
Writers: Buddy Giovinazzo
IMDB:
link
Trailer:
link
Purchase DVD:
link
(R1 release July 28th)
Review by: quietearth
Rating: 8 out of 10
Combat Shock more than deserves the pedigree of cult status, ranking with the likes of other favorites like Phantasm or Phase IV in its miasma and almost accidental brilliance. From the mind of Buddy Giovinazzo, this film retains the shocking status it earned in the 80s, and with a hint of Eraserhead and the destroyed, weed overgrown backdrop of The Warriors, it will pass into eternity as a favorite among cinephiles. What begins inside a small, freezing bamboo box in a Vietnamese POW camp with the quote "I can no longer tell where one torture ends and the next begins" grows the seeds of madness.
I'm going to eschew analysis of what is, ostensibly, a statement about the horrors of the Vietnam war, it's after affects, and the treatment of vets. Instead, I'll enjoy Combat Shock with it's nightmarish tether to war flashbacks like "I go back there every night without fail", for what it is. What is it? Possibly an inspiration for Jacob's Ladder. Most definitely, a thoroughly enjoyable excursion into mental deterioration.
Our protagonist has no job, a nagging wife, deformed baby, and junkie friends. The apartment they live in is filthy, the tv barely getting a signal, their environment, hostile at worst and depressing at best. The shops are closed, weeds grow from every crack. The train stations look like they were shut down 20 years ago but still operate. Everything is covered in graffiti and few people tread the same streets. All seems empty and lifeless just like the insides of all of our characters. And through the 24 or so hour period the film covers, it goes from terrible, to horrendous.
Since they have no food, our main character searches the streets as if he could find a job, empathetic to those around him but hurting inside. His junkie friends need a fix and he'd like to help, but there's not much he can do. We see his own terrible situation along with the rest, everyone scrounging for what they want or need, and we can't help but like him. The rest of the characters, a dead end sign chained around their neck, have a heavy Italian lilt, some mafia in style. This is his world.
The foreboding 80s synth music, complete with heavy whammy bar usage, only lends more credibility to the mental deterioration in it's repetitive annoyance as our main character is transported back to Vietnam to relive the guilt and the horrors of torn bodies and spilled guts. Each time his focus comes back to the present, the line between these two worlds becomes even more blurred, the sweat from his last shift still dripping from his forehead. Whether it's the agent orange or the crushing weight of his history (or both), he has no options left and makes one last ditch effort.
The director's cut was my first and only viewing of this Troma released film, and I think I'll keep it that way. If you love the same kind of films we here at Quiet Earth do, you won't want to miss this.
You might also like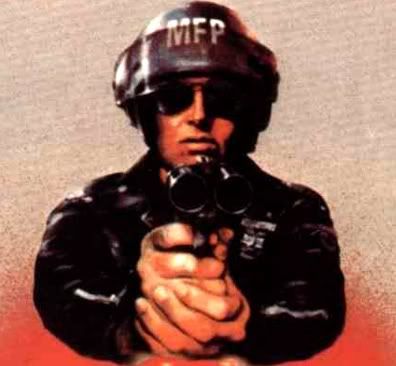 agentorange (12 years ago) Reply

Sounds utterly fascinating. Maybe Troma hasn't completely lost it just yet.

projectcyclops (12 years ago) Reply

I'd heard of this but never seen it before, sounds amazing.

Andrew (12 years ago) Reply

I've been looking to toss my old dvd for years now. Finally.

Leave a comment