Latest news
Christopher Webster
[Celluloid 05.28.09]
post apocalyptic
movie
news
short
thriller
Watching the first teaser for Anna de Paoli's new German post-apocalyptic short,
The Boy Who Wouldn't Kill
, is a lot like looking into the past. Filmed in beautiful 16mm, the 24 minute short film has been made to look like an older picture and as a result looks like found footage from some unknown 70s relic.
Cinematographer Luciano Cervio deserves a lot of the credit here and I like the fact that it's not trying too hard to be a "grindhouse" movie. Just by reading the synopsis and seeing some of the poetic footage you can tell there's a brain in this one.
Synopsis:
Anjo and his family live on a chicken farm in the post apocalyptic desert. While his father constantly tries to teach him that killing is a necessity to survive, Anjo dreams of finding the last remains of civilization. After a desert pirate attack, a motorcycle is left behind. Anjo hides it and decides to go on a quest for fuel - and follows the trail of the pirates. But even if he manages to vanquish the endless wasteland around his and get the motorcycle running, will he be able to overcome his father?
Oddly enough the trailer is spoken in German but has English titles (like in the picture above). Maybe that means we'll get a subbed version soon.
You might also like
quietearth (13 years ago) Reply

We so need a copy of this!

Bofred (13 years ago) Reply

0:02 What's that
0:06 Many people live together in many houses
0:07 A Town
0:09 Town?
0:14 Tell me what you see from here today
0:15 Sand
0:44 Look if his things are okay, and then go wash yourself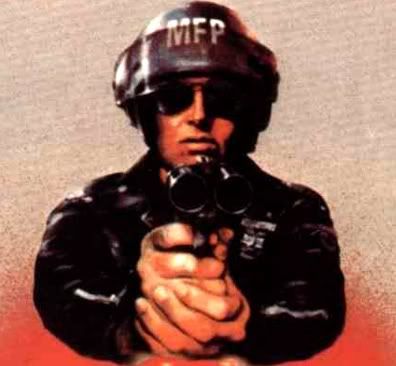 agentorange (13 years ago) Reply

@Bofred
Thanks for the translation.

@quietearth

I know, it looks like friggin' El Topo or something. I'm trying to get a copy now.

Bob Doto (13 years ago) Reply

Looks a-ma-zing.
B

Apocalyptic Rider (13 years ago) Reply

Just checked out, it wasnt anna de paoli but her (seems to be) husband Linus de paoli who directed this movie....trying also to get a copy, let you know when I got it where to get.
Does anybody know the guy who gets shot in this trailer?

Leave a comment