Latest news
Christopher Webster
[Celluloid 02.05.09]
post apocalyptic
movie
news
short
scifi
dystopic
After searching for footage for Jonathan Ashley's amazing looking short film
Notes from the Acrid Plain with Burton Hoary, Vol. 7
for over two days now I've got got no choice but to just post this plea for a review screener and cross my fingers. A festival favorite for almost a year now, Ashley's very original 15 minute film takes the form of 'Part 7' of an anthropological film series about the life and behaviors of the descendants of man that inhabit a toxic earth. Sort of a post-apocalyptic "Wild Kingdom" if you will.
Naturalist Burton Hoary hosts a survey of the toxic landscape known as the "Acrid Plain," peopled by the masked descendants of the human race. This chapter focuses on the Harvesters, their obscure practices and the perils they face.
As you can see from the only still that has been released for the film it features amazing sets, prosthetics and costumes and looks like a filmstrip from the 30s. It was made as Jonathan's final thesis project from NYU film school. It is also the second film in a series of post-apocalyptic faerie tales involving masked creatures.
Notes from the Acrid Plain with Burton Hoary, Vol. 7 is set to screen at
SIFF
on February 7 (my birthday for anyone who cares) so if you're in Seattle this weekend and you check it out, be sure to drop us a comment.
You might also like
curt (13 years ago) Reply

I saw this during the Seattle Siff festival this weekend. IT was definitely one of the best shorts aired. The mock vintage documentary schtick was cute, but a bit campy. The strength in the film is definitely the visuals - not only the sets and costumes, but the vintage colouring effects and texturizing, too. I would have liked to see the post-apocalyptic characters acting out more of a dram, with dialogue and stuff. Still, highly recommended.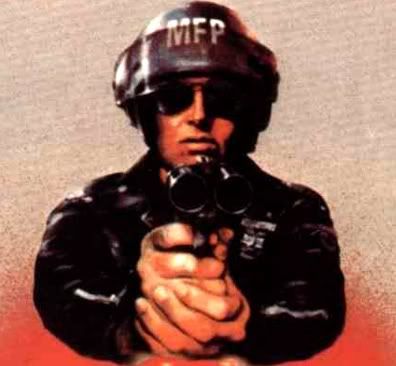 agentorange (13 years ago) Reply

Thanks for the mini-review curt. I read somewhere that at first it feels a bit like modern dance -- that is before you realize that it's a nature doc. It looks great. Hopefully we'll all get to see it soon.

Jonathan Ashley (13 years ago) Reply

Hello,

Thanks for your interest. I'd be happy to send you a DVD, if you email me your information.

Sincerely,
Jonathan Ashley

Danny (13 years ago) Reply

Can I have a copy too?? I loved it and want to see the first one too!

Kelsey Hine (13 years ago) Reply

I heard about the film and I'd love to see it~!

Fallout Fairy (13 years ago) Reply

Can I please get a copy, too? I saw it at SIFF and would love to have it!

Alan Balthrop (13 years ago) Reply

I would love to screen this film at FenCon VI, being held in Dallas from September 18-20. Please let me know how I can obtain a copy of the film for our video room

Ivan Magrin-Chagnolleau (13 years ago) Reply

Hello Jonathan,

I am trying to get in touch with you but all I have is your old NYU email address and I am not sure if it still works.

I would like to get a copy of the latest version of Mask Project Vol. 1 (the one I am in).

I would also love to get a DVD of your latest movie. I am so eager to see it.

Are you still in New York? If you need an actor, let me know. I would love to work with you again (but maybe not in the freezing cold).

I hope (really hope) to hear from you very soon!

Ivan

emu (13 years ago) Reply

Hi!

anybody have an email address, where i can reach Jonathan? I would like to make contact with him, becouse we would like to show his film at a hungarian SF film festival.

my email is: emu[AT]demoscene.hu

ValeryVah (12 years ago) Reply

Who knows where to download XRumer 5.0 Palladium?
Help, please. All recommend this program to effectively advertise on the Internet, this is the best program!

LorencoFex (11 years ago) Reply

Did you downloaded Wikileaks docs? Give me link plz
Hope for no silence

carpinteyrotlt (11 years ago) Reply

=

Leave a comment