Latest news
Christopher Webster
[Celluloid 09.23.08]
movie
trailer
news
scifi
thriller
Nacho Vigalondo's Timecrimes is easily one of my favorite films of the year and I'm really looking forward to it's eventual theatrical and DVD release through Magnet Releasing so we can start laying some QE love on it. It won all kinds of prizes in too many festivals to mention this past year and, along with other festival fave Let the Right One, is already getting an American remake fast tracked (in which
Cronenberg has expressed
interest *crosses fingers*). Posting the first domestic trailer may seem a bit redundant as we've been following the Spanish film on Quiet Earth all through its production but, I just liked the film so much that, I wanted to make sure everyone knows about it so they can check it out. Trailer embedded after the break.
You might also like
G.H. (13 years ago) Reply

Gah, they give away too much I think. They didn't need any of the text to get me interested.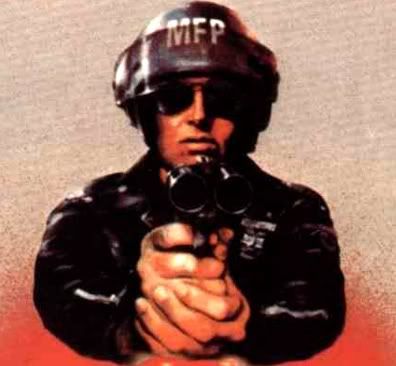 agentorange (13 years ago) Reply

I know! One of the best things about Timecrimes was that I went in with only had a vague idea of what to expect and came out mind blown. American trailer need to pair down on the spoilers methinks.

Kurt (13 years ago) Reply

Ouch, this trailer should be destroyed, it removes many of the myriad pleasures of the film. I try not to tell folks too much about the movie. If I'd watched that trailer before seeing the film, The film would have lost a lot of its considerable charm.

(I'd even go so far as to take it down! ha!)

S (13 years ago) Reply

Saw this at the helsinki film festival last week.. brilliant..
I really can't see an american remake working at all - it would have to be completely reimagined to not just seem lame.
A brit remake perhaps.. but american?

Leave a comment