Latest news
quietearth
[Celluloid 09.17.08]
movie
news
cyberpunk
scifi
YES! Finally a full trailer has dropped for the Sundance premiering scifi extravaganza
SLEEP DEALER
which we've been following for-bloody-ever! Is it a disappointment? Not in the least! It's friggin incredible! A tale of terrorism, tele-presence and corporations, it's about three people trying to connect in a crazy world. Here is a previous post with a
full synopsis
. The trailer is after the break, and yes, I just about peed myself when I saw this. Oh, and one more thing, theres about 10 minutes of footage after the break.
Sleep Dealer official website
You might also like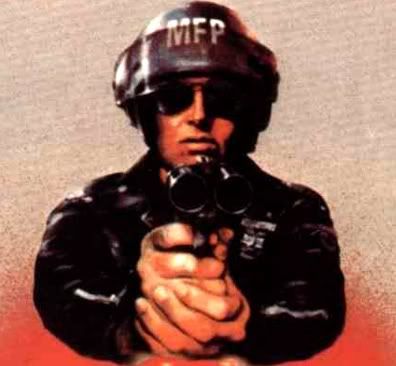 agentorange (14 years ago) Reply

Awesome. I cannot wait to see this!

soma (14 years ago) Reply

I love the bit where he goes to work.

chumpo (14 years ago) Reply

that cgi is awful 3dsm circa 2000. this is nothing more then a straight to dvd sub-meh sci-fi rehashing of stuff that's been done. and the style of photography in the trailer is not cutting edge or interesting. no sure what the buzz is about, cuz this trailer does nothing for me.

Hot Fuzz (14 years ago) Reply

Its not about FX man. early reviewers have called Alex Rivera a new George Lucas (as a good thing).

The thing as a whole is apparently amazing.

Anonymous (14 years ago) Reply

lol the new george lucas eh
he's certainly supporting a well discussed agenda here almost a carbon copy of laid out plans in the predictive programming field
see thx 1138 to see what i mean

Leave a comment